October 19, 2020
Navaratri Poojayile Nava Durgai Avatharam Lyrics | Navaratri Tamil Songs
Navaratri Poojayile Nava Durgai Avatharam Lyrics | Navaratri Tamil Songs: Navratri Poojayile Nava Durgai  Avatharam is a Tamil devotional song about Goddess Durga, rendered by singer Mahanadhi Shobana.
This Navratri special songs Tamil devotional songs on Durga Lakshmi saraswati are sung during the Navarathri festival and also during the Golu decorations as well.
Navaratri or Durga Puja festival is associated with goddess Durga. Navaratri is a Hindu festival that spans nine  nights and ten days. This festival is celebrated for different reasons and celebrated differently in various  parts of India. Navaratri is celebrated as the Durga Puja festival in West Bengal. In Karnataka, It is called Dasara.
Navaratri Poojayile Nava Durgai Avatharam song lyrics were written by Ulundurpettai Shanmugam and the song was composed by Aravind.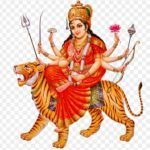 Song: Navaratri Poojayile Nava Durgai
Genre: Devotional
Lord: Durga Devi
Music: Aravind
Lyrics: Ulundurpettai Shanmugam
Singers: Mahanadhi Shobana
Check out the lyrics here..
Navaratri Poojayile Nava Durgai Avatharam
Navaratri Poojayile Nava Durgai Avatharam
Silambosai Keatkiradhu Varam Perave Vaarungal
Purattaasi Thingalile Virattugiral Arakkargali
Ponaana Neramidhu Poovalli Thoovungal
Ponaana Neramidhu Poovalli Thoovungal
Shankari Bhairvai Chamundeshwari
Jaya Jaya Bhavani Jaya Jaya Durga
Shankari Bhairvai Chamundeshwari
Jaya Jaya Bhavani Jaya Jaya Durga
Navaratri Poojayile Nava Durgai Avatharam
Navaratri Poojayile Nava Durgai Avatharam
Vaasalile Kolangal Maavilaigal Thoranangal
Veedellam Vilakketri Paadalgal Paadungal
Vaasalile Kolangal Maavilaigal Thoranangal
Veedellam Vilakketri Paadalgal Paadungal
Thaayavalin Manam Kulirndhaal
Tharai Ellam Pon Vilaiyum
Thaayavalin Manam Kulirndhaal
Tharai Ellam Pon Vilaiyum
Veeram Vivegamodu Slevangal Vendungal
Sankari Bairvai Chamundeshwari
Jaya Jaya Bhavani Jaya Jaya Durga
Sankari Bairvai Chamundeshwari
Jaya Jaya Bhavani Jaya Jaya Durga
Navrathri Poojayile Nava Durgai Avadharam
Navrathri Poojayile Nava Durgai Avadharam
Imaiyatthil Aval Pirandhaal
Kumariyile Valarndhirundhaal
Madhuraiyile Manam Muditthaal
Thillayile Nadam Purindhaal
Imaiyatthil Aval Pirandhaal
Kumariyile Valarndhirundhaal
Madhuraiyile Manam Muditthaal
Thillayile Nadam Purindhaal
Kaanjiyile Thavamirundhaal
Kaasiyile Nalam Arulvaal
Kaanjiyile Thavamirundhaal
Kaasiyile Nalam Arulvaal
Kaalamellaam Nammudane
Kaaliyaval Thodarndhiduvaal
Kaalamellaam Nammudane
Kaaliyaval Thodarndhiduvaal
Sankari Bairvai Chamundeshwari
Jaya Jaya Bhavani Jaya Jaya Durga
Sankari Bairvai Chamundeshwari
Jaya Jaya Bhavani Jaya Jaya Durga
Navaratri Poojayile Nava Durgai Avatharam
Navaratri Poojayile Nava Durgai Avatharam
Silambosai Keatkiradhu Varam Perave Vaarungal
Purattaasi Thingalile Virattugiral Arakkargali
Ponaana Neramidhu Poovalli Thoovungal
Ponaana Neramidhu Poovalli Thoovungal
Sankari Bairvai Chamundeshwari
Jaya Jaya Bhavani Jaya Jaya Durga
Sankari Bairvai Chamundeshwari
Jaya Jaya Bhavani Jaya Jaya Durga
Comments
comments