January 15, 2022
Purandaradasara Keerthanegalu | Purandara Dasa Songs Part 12
Purandaradasara Keerthanegalu | Purandara Dasa Songs Part 12: Purandara Dasaru was a great saint and poet from Karnataka. He was a Haridasa – a great devotee of Lord Krishna. He was a composer, singer and one of the chief founding proponents of Carnatic music.
Purandara Dasaru was not only a poet but he is regarded as Sangeeta Pitamaha of Carnatic music. His contribution to Carnatic music and Dasa Saahityha [Dasa Literature] is immense. 'Purandara Vittala' is his pen name or Ankitanama. Purandara Dasa's aradhana or punyadina is held on the pushya bahula amavasya of the Indian chandramana calendar [February-March].
He has composed plenty of devaranamas, Keerathanas, Padagalu. Most of his songs are in praise of Lord Naraayana and other Devatas. Purandara Dasaru has composed lots of Keerathanas on variuos Gods like Krishna, Rama, Narasimha, Srinivasa, Hari, Panduranga, Shiva, Ganapathi, Mahalakshmi, Thulasi, Hanumantha, Saraswathi, Ganga, Bharathi, and others.
Here we have made an effort to provide some of the Purandaradasara Keerthanegalu on Sri Madhwaraya here. Lets look at the following Purandaradasara Krithis..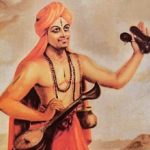 Purandaradasara Keerthanegalu – Part 12
56. Baramma Ele Muddu Gopyamma
57. Hege Maadali Maguvige Enayithe
58. Enu Maadalo Magane Yake Belagaayitho
59. Sikkidanele Jaane Sri Venugopala
60. Kandaneke Malagane Kelele Saki
56. Baramma Ele Muddu Gopyamma Lyrics
Baramma Ele Muddu Gopyamma
Nimma Balakrushnayyage Buddhi Helamma
Baalakaranu Badevanamma
Muddu Neelavarnage Buddhi Helamma
Sannavanaagi Thoruvanamma Paal
Benne Mosaru Kadivanamma
Kannaare Kandavu Maga Nimma Muddu
Chinnage Buddiya Pelamma
Itta Kasturi Naamadavanamma Ava
Hotteyolidaballanee Jagavamma
Dushta Haavanu Thulidavanamma Gopi
Gattyaagi Buddiya Pelamma
Aralele Maagayiyavanamma Honna
Berala Rannada Mudrikeyavanamma
Irulu Hagalu Namma Marulu Maadi Podha
Taralage Buddiya Pelamma
Maayaroopili Baruvanamma Kaddu
Avina Mole Umbuvanamma
Maavana Kondanivanamma Chelva
Devara Devage Buddi Pelamma
Kadahada Maraneridavanamma Betta
Kode Maadi Hididu Kaaydavanamma
Madaderandadi Ramisuvanamma Gudu
Gudisi Kambadalodevanamma
Ommege Ivarigolidavanamma Chelva
Brahmadevara Padedavanamma
Nammellara Poreva Purandara Vithalage
Ghammane Buddhiya Pelamma
57. Hege Maadali Maguvige Enayithe Lyrics
Hege Maadali Maguvige Enayithe Idha
Ragamava Ballavaru Thilidu Peli
Kanna Mucchalollanu Thoogi Malagisidare
Benna Melina Bukati Kalla Ariyaagide
Rogavidenu Daadeyali Neeru Ilivuthade
Kooguva Dhwani Omme Kundhidudu
Khanda Sakkare Haalu Unakottarollade
Mannu Hente Bedida Kaiyage Enu Kodali
Mande Jadekattitinnenu Maadali Idake
Hindu Sathiyara Sanga Ghanavaayithu
Maaleyanu Tegedu Maimuriduttu Nagutide
Kalakitanadalli Emma Kaadutaane
Neleya Ballavaru Kaane Dhareyolage
Cheluva Sri Purandaravittala Obbane Balla
58. Enu Maadalo Magane Yake Belagaayitho Lyrics
Enu Maadalo Magane Yake Belagaayitho
Enu Madalo Krishnayya
Enu Madali Innu Maaniniyaru Enna
Maanava Kaleyuvaro Rangayya
Haalu Mosaru Benne Kaddanembuvaro
Melina Kenegala Meddanembuvaro
Baalakarellara Badidanembaro Entha
Kaala Hengasu Ivana Hadedalembuvaro
Kattidda Karugala Bittanentembaro
Metti Sarpana Mele Kunidanembuvaro
Putta Baaleyara Mohisidanembaro Entha
Dushta Hengasu Ivana Hadedalembuvaro
Ganga Janaka Ninna Jaaranentembaro
Shrungara Mukha Ninna Baride Dhooruvaro
Mangala Mahima Sri Purandara Vittala
Hingade Emmanu Salahentembaro
59. Sikkidanele Jaane Sri Venugopala Lyrics
Sikkidanele Jaane Sri Venugopala
Bhaktavathsala Devanu
Makkala Chandike Marada Konege Katti
Ghakkana Chappaaleyikki Naliva Namma
Hennu Makkalu Bacchalolagenne Hacchikondu
Banna Vastrava Bicchi Battalire
Kannige Bisi Neeru Chelli Seereyanoydu
Unnathavaada Vrukshavaneri Ihanamma
Patte Manchada Mele Pathiyante Kullire
Eshtu Svathantra Ivage Gopi
Utta Seereyanoydu Battakuchava
Pidivaneshtenda Hele Brashta Maadidanamma
Sadagaradi Shodasa Sahasra Sthriyara
Odagoodi Kolalanoodutha Bandu
Kadeva Gopiya Jade Pidideleva
Ennodeya Purandara Vittalarayane
60. Kandaneke Malagane Kelele Saki Lyrics
Kandaneke Malagane Kelele Saki
Kaayaja Janakagenaayithu Ivage
Yavala Drushti Thaagithe
Kandaneke Kanna Mucchane
Indu Neeradadadalliruvane
Enendaru Mukhavetti Nodane
Govinda Baa Endare Baaya Therevane
Thanayanaagi Dhare Aledane Thanna
Jananiya Kandare Serane
Munigalanthe Mauna Pididane
Ghana Govu Kaayvaga Gaali Sokithene
Summanethake Vrata Kedisidane
Hamminindali Khadga Pididane
Janmajanmagalalli Bidadaliruva Nee Baaro
Bomma Sri Purandara Vittala
Comments
comments
About The Author
lyricsraaga
Lyricsraaga is a portal designed to provide the lyrics of Indian movie songs across various languages like Tamil, Kannada, Telugu, Malayalam and Hindi.