August 26, 2021
Raghavendra Raghavendra Yenniri Lyrics | Dr. Rajkumar Devotional Songs
Raghavendra Raghavendra Yenniri Lyrics | Dr. Rajkumar Devotional Songs: Raghavendra Raghavendra Yenniri is a popular Kannada devotional song about 'Saint Sri Raghavendra Swamy', from the album 'Songs On Sri Raghavendra Swamy Dr. Rajkumar Devotional' by Saregama music label.
Sri Raghavendra Tirtha [Sri Raghavendra Swamy] was a renowned Hindu Saint, and Scholar belonging to Madhwacharya's Dvaitha Vedanta philosophy. He was also known as Sudha Parimalacharya.
His works includes commentaries on the works of Sri Madhvacharya, Jayatirtha and Vyasatirtha, interpretation of the Principal Upanishads from the standpoint of Dvaita and a treatise on Purva Mimamsa. He served as the pontiff of matha at Kumbakonam from 1624 to 1671.
Sri Raghavendra swamy was also an accomplished player of the Veena and he composed several songs under the name of Venu Gopala. His shrine at Mantralayam attracts thousands of visitors every year.
Raghavendra Raghavendra Yenniri song lyrics were penned by famous Kannada lyricist Chi. Udayashankar and the song was composed by music director M. Ranga Rao. This song was soulfully rendered by legendary actor and singer Dr. Rajkumar.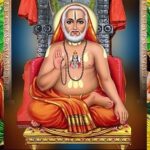 Raghavendra Raghavendra Yenniri Lyrics
Genre: Devotional
Music: M. Ranga Rao
Lyrics: Chi. Udayashankar
Singer: Dr. Rajkumar
Music Label: Saregama
Check out 'Raghavendra Raghavendra Yenniri Lyrics' here..
Raghavendra Raghavendra Raghavendra Yenniri
Naama Smarane Inda Nija Anandvannu Hondiri
Raghavendra Raghavendra Raghavendra Yenniri
Naama Smarane Inda Nijaanandvannu Hondiri
Tande Taayi Bandhu Balaga Yella Neene Enniri
Naanu Emba Moha Marethu Endhu Avana Nambiri
Tande Taayi Bandhu Balaga Yella Neene Enniri
Naanu Emba Moha Marethu Endhu Avana Nambiri
Hege Irali Elli Irali Avana Smarane Maadiri
Dhyanadinda Manava Suduva Chinthe Doora Maadiri
Raghavendra Raghavendra Raghavendra Enniri
Naama Smarane Inda Nijaanandvannu Hondiri
| Raghavendra Raghavendra Raghavendra Yenniri
Naama Smarane Inda Nijaanandvannu Hondiri | 2 |
Maana Praana Dhanavu Ella Swami Ninnadenniri
Guruve Ninna Karune Yonde Saku Nanage Yenniri
Maana Praana Dhanavu Ella Swami Ninnadenniri
Guruve Ninna Karuneyonde Saaku Nanage Yenniri
Kallu Mallu Sidilu Maleyo Avana Karune Yenniri
Yene Barali Avanadendu Nambi Munde Nadiyiri
Raghavendra Raghavendra Raghavendra Yenniri
Naama Smarane Inda Nijaanandvannu Hondiri
| Raghavendra Raghavendra Raghavendra Enniri
Naama Smarane Inda Nijaanandvannu Hondiri | 2 |
Nimma Maneya Nimma Manada Vishayavella Ballanu
Japanadinda Aleva Manadalendu Guruvu Nillanu
Nimma Maneya Nimma Manada Vishayavella Ballanu
Japanadinda Aleva Manadalendu Guruvu Nillanu
Koduvudella Koduvananavana Innu Aase Yethake
Kalpavrukshadanthe Guru Irali Chinte Yethake
Raghavendra Raghavendra Raghavendra Yenniri
Naama Smarane Inda Nijaanandvannu Hondiri
| Raghavendra Raghavendra Raghavendra Enniri
Naama Smarane Inda Nijaanandvannu Hondiri | 2 |
Poojyaaya Ragavendraaya
Sathya Dharmavrathaachaya
Bhajathaam Kalpavrukshaaya
Namathaam Kaamadhenuve..
Namathaam Kaamadhenuve
Comments
comments