August 24, 2022
Haddi First Look – Mesmerising Getup of Nawazuddin Siddiqui
Haddi First Look – Mesmerising Getup of Nawazuddin Siddiqui: Nawazuddin Siddiqui, one of the finest actors of Indian films these days is busy with his upcoming project. He will soon be seen in the film 'Haddi'. Nawazuddin Siddiqui is all set to return to the screen with an exciting story.
Nawazuddin is going to be seen in a completely different look in this film and the motion poster released confirms it. As soon as the motion poster surfaced online, cine lovers are busy discussing and expressing their views of Nawaz's new look.
In this poster released, Nawazuddin Siddiqui is seen in a very bold avatar. No one has ever seen such an incarnation of his. It is almost impossible to even recognize the actor in this new avatar.
Haddi Hindi film is directed by Akshat Ajay Sharma and produced by is produced by Raadhika Nanda and Sanjay Saha of Anandita Studios and Zee Studios. The project, which will be shot in areas around western Uttar Pradesh, will hit the screens in 2023.
While releasing this poster on Twitter handle, the makers and Nawazuddin wrote, 'You have never seen such a form of crime before. She has started shooting for the revenge drama 'Haddi'.
In the poster released, Nawazuddin is seen dressed like a girl and in heavy makeup. Nawazuddin is sitting on a big chair wearing a gray color gown in the poster. Horror music is playing in the background, which is making Nawaz's look more creepy. Seeing Nawaz's look, the fans have become very excited about this revenge drama.
Haddi First Look – Mesmerising Getup of Nawazuddin Siddiqui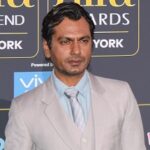 Movie: Haddi
Language: Hindi
Director: Akshat Ajay Sharma
Production: Anandita Studios and Zee Studios
Cast: Nawazuddin Siddiqui, & Others
Release: 2023
Comments
comments