March 17, 2018
Appi Tappi Lyrics | Rajaratha
Appi Tappi Lyrics | Rajaratha: Appi Tappi is a song from an upcoming 2018 Kannada movie Rajaratha, written and directed by Anup Bhandari. Rajaratha features Nirup Bhandari, Avantika Shetty, P. Ravishankar, Arya, Sruthi Hariharan, Puneeth Rajkumar and others. This is the second collaboration with the director and lead roles after a grand success of Rangi Taranga. Divo is the music label of this movie.
This song was composed and written by Anup Bhandari. Appi Tappi song was rendered by Deepak Doddera.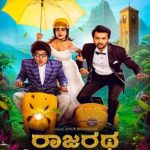 Appi Tappi Lyrics
Movie: Rajaratha [2018]
Music Label: Divo
Music: Anup Bhandari
Singer: Deepak Doddera
Lyrics: Anup Bhandari
Check out the lyrics here..
Baaninalle Heegeke Ninthe Neeu Megha
Melinda Ninthu Noduvaaga
Nanna Mounadalle..
Maathu Kelisade..
Neeneno Heege
Onde Maathinalle Ellavannu Helaballe
Bereno Kelidaaga
Yelli Heluveno Ninnalli Indu
Appi Thappi Maathu Mathalle
Preethisuve Ninnanu Endu
Preethisuve Ninnanu Endu
Thampu Gaali Heege Beesikondu Thannane
Pisu Maathinalli Maadidaaga Bannane
Naanu Kaddhu Mucchi Nodidaaga Summane
Kanna Reppe Mucchi Thereyalu Mellane
Helu Ennuthive Ninna Kannuglau
Nanna Kalpaneya.. Husi Sannegalu..
Ee Reethi Naanu
Kanasenu Nijavenu Endu Gottirade
Enu Helalaare Helu Neene Nanna Hatthira Bandu
Appi Tappi Maathu Mathalle
Preethisuve Ninnanu Endu
Hoovinanda..
Holuvantha Ninna Mandahaasavannu Kanda
Dumbi Inda.. Dooraviru
Ninna Nage Kanda..
Aa Dumbigalu..
Ade Makarandha.. Endu Nambidavu
Dumbiya Daalige Silukuva Munna
Ninna Thuti Anchininda Nanna
Kennege Bannavittu Nodu
Kannalli Kannanittu Nodu
Innu Kaanisade
Maatheke Eega
Nodu Heluthide Kannina Bindu
Preethisuve Ninnanu Endu
Baaninalle Heegeke Ninthe Neeu Megha
Melinda Ninthu Noduvaaga
Hm Hm Hm..
Comments
comments