April 6, 2022
Avatara Purusha – Hero Honda Video Song Released
Avatara Purusha – Hero Honda Video Song Released: 'Hero Honda' is a Kannada song from the upcoming film 'Avatara Purusha', directed by Suni and produced by Pushkara Mallikarjunaiah under the banner Pushkar Films.
Avatara Purusha – Hero Honda Video Song was released on April 2nd on the YouTube channel 'Pushkar Films' and the song is getting an overwhelming response from viewers with 3M views for this catchy number.
Avatara Purusha Kannada film features Sharan, Ashika Ranganath, Sai Kumar, Sudha Rani, Bhavya, Sadhu Kokila, Sri Nagar Kitty, B. Suresha and others.
The director of this film 'Suni', made his debut with the 2013 Kannada film Simple Agi Ondh Love Story followed by Bahuparak [2014], Simpallag Innondh Love Story [2016], Operation Alamelamma [2016], Chamak [2017], Bazaar [2019], and Sakath [2021]. His upcoming movies are 'Robinhood', 'The Story Of Raygada', and 'Gatha Vaibhava'.
Hero Honda Kannada song lyrics were penned by Shivu bhergi and the song was composed by music director Arjun Janya. This song was sung by playback singers Vijay Prakash and Shamitha Malnad. This song was choreographed by Bhushan Master.
Avatara Purusha – Hero Honda Video Song reminds us of the super hit song 'Chuttu Chuttu' from Raambo-2. Its tune, grand colorful sets, extraordinary choreography, rendition by singers, a dance performance by lead actors and dancers all these factors catch the attention of the viewer to enjoy the song.
After the success of Chuttu Chuttu, actors Sharan and Ashika Ranganath joined hands again for the similar song. The same combo of Arjun Janya, Shivu bhergi, Shamitha Malnad and Bhushan Master of 'Chuttu Chuttu' are part of this song as well.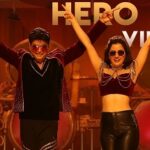 Hero Honda Kannada Song
Movie: Avatara Purusha [2022]
Music: Arjun Janya
Lyrics: Shivu Bhergi
Singers: Vijay Prakash, Shamitha Malnad
Cast: Sharan, Ashika Ranganath
Comments
comments