June 19, 2018
Baila Baila Lyrics | Deergha Sumangali
Baila Baila Lyrics | Deergha Sumangali:  Baila Baila is a song from the 1995 Kannada movie Deergha Sumangali, directed by D. Rajendra Babu and produced by D. R. Umashankari, R. Venkata Raju under the banner Adithya Movie Makers. Deergha Sumangali features Sithara, Devan, Ramakrishna, Srinivasa Murthy, B. V. Radha, Lakshman, Richard Louis, Srishailan, M. S. Karanth, Brahmavar and others with Vishnuvardhan in Guest Appearance. Jhankar Music is the music label of this movie. This song was composed and written by Hamsalekha. Baila Baila song was rendered by famous playback singer S. Janaki.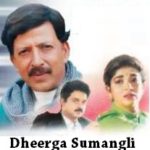 Baila Baila Lyrics
Movie: Deergha Sumangali [1995]
Music Label: Jhankar Music
Music: Hamsalekha
Lyrics: Hamsalekha
Singers: S. Janaki
Check out the lyrics here..
Hoo Baila Baila….
Baila Baila Baila Baila |2|
Ho Baila Baila Music Baila
Gumpinalli Haduvudu Gungigaagi
Impinalli Kuniyodu Maththigaagi
Hoo Baila Baila
Hangu Baila Hingu Baila
Bailaagi Illa Bailaaaa
Ho Baila Baila Music Baila
Gumpinalli Haduvudu Gungigaagi Impinalli Kuniyodu Maththigaagi |2|
Ooru Ooru Desha Desha
Ondaagode Musi Music Ninda
Bhashe Bittu Bhava Kottu
Nalidaadode Musi Music Ninda
Eshto Varsh Kunthre Shanthi Sigodanthe
Music Ninda Onde Nimshak Swarga Etkuththanthe
Hoo Bailaa Bailaaa Hangu Baila Hingu Bailaa
Bailaagi Illa Bailaaaa
Ho Baila Baila Music Baila
Gumpinalli Haduvudu Gungigaagi Impinalli Kuniyodu Maththigaagi |2|
Noora Entu Sentimentu
Antikonda Baalu Thumba Golu
Maduve Nantu Commitmentu
Samsaarada Saara Thumba Khara
Life-Inalli Praaya Bahala Kadimeyanthe
Music Hinde Hodre Namma Life-Ee Prayananthe
Hoo Baila Baila Hangu Baila Hingu Baila
Bailaage Illa Baila
Baila Baila Baila Baila
Ho Baila Baila Music Baila
Gumpinalli Haduvudu Gungigaagi Impinalli Kuniyodu Maththigaagi |2|
Baila Baila Baila Baila
Ho Baila Baila Music Baila
Comments
comments