October 7, 2018
Barro Badetava Song Lyrics | Ondu Sanna Break Na Nantara
Barro Badetava Song Lyrics | Ondu Sanna Break Na Nantara: Barro Badetava is a song from an upcoming 2018 Kannada movie Ondu Sanna Break Na Nantara, directed by Abhilash Gowda. The film was produced by Sarvashree under the banner Colorful Crystal Combines.
The film features Hithan Hassan, Ammani, Surya, Kiran, Chaitra and others. Lahari Music is the music label of this movie. This song was composed by Hithan Hassan. The lyrics of this song was written by Harshapriya. Barro Badetava song was sung by Ammani and Hithan Hassan.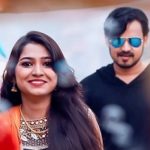 Barro Badetava Lyrics
Movie: Ondu Sanna Break Na Nantara
Music Label: Lahari Music
Music: Hithan Hassan
Lyrics: Harshapriya
Singers: Ammani, Hithan Hassan
Check out the lyrics here..
Hosadondu Rap Haadla Barthaithe Moodu Nodla
India Ne Mandya Rap Ge Kuniyange Madla
Barro Baddetava Mandya Rap Maduva
Barro Baddetava Mandya Rap Maduva
Barro Baddetava Mandya Rap Maduva
Naavu Barro Baddetava Mandya Rap Maduva
Mudde Bassar Buththi Kattkondu Bettak Hoguma
Mudde Bassar Buththi Kattkondu Bettak Hoguma
Aalli Maadeswarang Adda Biddu Uge Uge Endukondu
Mandya Gowdra Gaththinalli Patta Patti Chaddi Thottu
Barro Baddetava Mandya Rap Maduva
Barro Baddetava Mandya Rap Maduva
Barro Baddetava Mandya Rap Maduva
Naavu Barro Baddetava Mandya Rap Maduva
Shake Your Ass Baby Shake Your Ass Baby
This Is The Time For A Mandya Boss
Shake Your Ass Baby Shake Your Ass Baby
This Is The Time For A Mandya Boss
Munjaneddu Kotge Gudsi Maarammange Thamte Odsi
Kabbin Gaddeli Kabbaddiya Aata Aaduma
Marukatte Hinde Idru Horatakke Munde Bandu
Ambrish Annan Style-Al Naavu Taala Thattuma
Adnadi Buddi Suttu Aakasa Kelagade Bottu
Mandyada Haiklu Festu Antha Thorsuma
Nammase Markondavrge Mandyada Sakre Thinsi
Muththnantha Kannadava Kalsi Koduma
Barro Baddetava Mandya Rap Maduva
Barro Baddetava Mandya Rap Maduva
Barro Baddetava Mandya Rap Maduva
Naavu Barro Baddetava Mandya Rap Maduva
Aralikatte Suthkondu Naavu Neerig Hogo Hudgeer Nodi
Sille Oodi Kannu Badidu Kaalu Haakuma
Opkondre Thali Katti Thirgi Bidre Raakhi Katsi
Bassinalle Byare Hudgige Kattu Thaliya
…………….Thund Haiklu Kattikondu
Thuntaata Aadikondu Thaala Haakuma
Halliya Haiklu Haadu Dilligu Kelso Hange
Dhoolebsi Duniyage Seddu Hodyuma
Barro Baddetava Mandya Rap Maduva
Barro Baddetava Mandya Rap Maduva
Barro Baddetava Mandya Rap Maduva
Naavu Barro Baddetava Mandya Rap Maduva
Mudde Bassar Buththi Kattkondu Bettak Hoguma
Mudde Bassar Buththi Kattkondu Bettak Hoguma
Aalli Maadeswarang Adda Biddu Uge Uge Endukondu
Mandya Gowdra Gaththinalli Patta Patti Chaddi Thottu
Barro Baddetava Mandya Rap Maduva
Barro Baddetava Mandya Rap Maduva
Barro Baddetava Mandya Rap Maduva
Naavu Barro Baddetava Mandya Rap Maduva
Shake Your Ass Baby Shake Your Ass Baby
This Is The Time For A Mandya Boss
Shake Your Ass Baby Shake Your Ass Baby
This Is The Time For A Mandya Boss
Comments
comments