February 12, 2018
Benkiyalli Aralida Hoovu Song Lyrics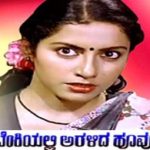 Benkiyalli Aralida Hoovu Song Lyrics: Benkiyalli Aralida Hoovu is a 1983 Kannada movie, directed by K. Balachander. Benkiyalli Aralida Hoovu features Suhasini, Pavithra, Rajeev, Sarath Babu, Jai Jagadish, Sunder Raj, Ramakrishna, Leelavathi, Vijayalakshmi Singh, Kamal Hassan and others.
Kamal Haasan has appeared in a guest role as a bus conductor. This movie is a remake of Tamil film Aval Oru Thodar Kathai (1974), which also had Kamal Hassan playing a different role. Saregama was the music label for this movie.
All songs of this movie were composed by M. S. Viswanathan with lyrics penned by Chi. Udaya Shankar. Benkiyalli Aralida Hoovu Songs were rendered by S. P. Balasubrahmanyam and Vani Jairam.
Check Out the Lyrics Here…
Thali Kattuva Shubha Vele Lyrics
Movie: Benkiyalli Aralida Hoovu [1983]
Music Label: Saregama
Music: M. S. Viswanathan
Lyrics: Chi. Udaya Shankar
Singers: S. P. Balasubrahmanyam
Munde Banni Innoo Munde Banni Lyrics
Movie: Benkiyalli Aralida Hoovu [1983]
Music Label: Saregama
Music: M. S. Viswanathan
Lyrics: Chi. Udaya Shankar
Singers: S. P. Balasubrahmanyam
Benkiyalli Aralida Hoovu Naanamma Lyrics
Movie: Benkiyalli Aralida Hoovu [1983]
Music Label: Saregama
Music: M. S. Viswanathan
Lyrics: Chi. Udaya Shankar
Singers: Vani Jairam
Hogu Yennalu Nee Yaaru Lyrics
Movie: Benkiyalli Aralida Hoovu [1983]
Music Label: Saregama
Music: M. S. Viswanathan
Lyrics: Chi. Udaya Shankar
Singers: S. P. Balasubrahmanyam
Premada Geetheya Haaduva Lyrics
Movie: Benkiyalli Aralida Hoovu [1983]
Music Label: Saregama
Music: M. S. Viswanathan
Lyrics: Chi. Udaya Shankar
Singers: Vani Jairam
Comments
comments