November 3, 2017
Bennina Hinde Lyrics
Bennina Hinde Lyrics: Bennina Hinde is a song from the 1994 Kannada movie Odahuttidavaru, directed by Dorai – Bhagawan. Odahuttidavaru features Rajkumar, Ambareesh, Madhavi, Srishanti, Vajramuni, K. S. Ashwath, Balakrishna, Umashree and others. The film was the last work of the acclaimed lyricist Vijaya Narasimha. Sangeetha is the music label of this movie. This song was composed by Upendra Kumar with lyrics penned by Sri Ranga. Bennina Hinde was rendered by S. P. Balasubrahmanyam and Sangeetha Katti.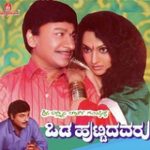 Bennina Hinde Lyrics
Movie: Odahuttidavaru [1994]
Music Label: Sangeetha
Music: Upendra Kumar
Lyrics: Sri Ranga
Singers: S. P. Balasubrahmanyam, Sangeetha Katti
Check out the lyrics here..
Bennina Hinde Bandu Neenu Kennege Muththiduvaga
Bennina Hinde Bandu Neenu Kennege Muththiduvaga
Han Meeseyu Chuchchi Aaseyu Hechchi Minchina Haage
Mai Kai Ella Jummendithu Nalla
Ee Baaleya Bayakeya Nee Thanisu Baa Iniya
Thondeya Hanna Thutiya Henna Baluko Sonta Sanna
Binkada Ninna Jinkeya Kanna Notake Naanu Sothu Hode
Nalle Ninnaseya Balle Vayyarada Danthada Maiyyavale Baa Balige
Praya Ukki Haridu Bisi Thandaga
Praya Ukki Haridu Bisi Thandaga
Idu Challatada Vayasu
Thutiya Anchige Thuti Thandaga
Hosa Romanchana Sogasu
Sathi Naanallava Pathi Neenallava
Rathi Manmatharu Naavaguva
Iniya Baa Saniha
Thondeya Hanna Thutiya Henna Baluko Sonta Sanna
Binkada Ninna Jinkeya Kanna Notake Naanu Sothu Hode
Nalle Ninnaseya Balle Vayyarada Danthada Maiyyavale Baa Balige
Gaala Haki Selva Neela Jadeyole
Gaala Haki Selva Neela Jadeyole
Nee Nudidanthe Naa Nadeve
Thala Haaki Kunisi Kannu Hodeyole
Nee Keliddu Koduve
Sarasa Aadona Baa Cinema Nodaona Baa
Jothe Ondagi Serona Baa
Cheluve Baa Balige
Bennina Hinde Bandu Neenu Kennege Muththiduvaga
Binkada Ninna Jinkeya Kanna Notake Naanu Sothu Hode Nalle
Jummendithu Nalla
Ee Baaleya Bayakeya Nee Thanisu Baa Iniya
Danthada Maiyyavale Baa Balige
Comments
comments