August 11, 2017
Besuge Besuge Lyrics
Besuge Besuge Lyrics: Besuge Besuge is a famous song from the 1976 Kannada movie Besuge, directed by Geethapriya. It is based on a novel of the same name by Ashwini. Besuge features Srinath, Manjula, K. S. Ashwath, Shivaram, Chandrashekhar, Ashwath Narayan, Chethan Ramarao, Manmatha Rao, M V Rajamma, Jayalakshmi, Shanthala, Pushpa, Madhuri, Shanthi, and others.
The film is seen as a landmark in the career of Geethapriya, both as a director and lyricist, and Srinath.This song was composed by Vijaya Bhaskar with the lyrics written by Geethapriya. Besuge Besuge song was rendered by S. P. Balasubramanyam, Vani Jayaram.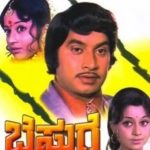 Besuge Besuge Lyrics
Movie: Besuge[1976]
Music Lable: Saregama
Music: Vijaya Bhaskar
Lyrics: Geethapriya
Singers: S. P. Balasubramanyam, Vani Jayaram
Check out the lyrics here..
Besuge Besuge Besuge Besuge
Besuge Besuge Besuge Besuge
Jeevanavella Sundara Besuge
Besuge Besuge Besuge Besuge
Besuge Besuge Besuge Besuge
Jeevanavella Sundara Besuge
Raagada Jothege Thalada Besuge
Raaga Thalake Bhavada Besuge
Raagada Jothege Thalada Besuge
Raaga Thalake Bhavada Besuge
Bhavada Jothege Geetheya Besuge
Geetheya Jothe Sangeethada Besuge
Besuge Besuge Besuge Besuge
Jeevanavella Sundara Besuge
Hareyada Hennige Lajjeya Besuge
Miruguva Kannige Aaseya Besuge
Hareyada Hennige Lajjeya Besuge
Miruguva Kannige Aaseya Besuge
Yowwanadalli Mohada Besuge
Maimanadalli Bayakeya Besuge
Besuge lala lala Besuge lala lala
Besuge lala lala Besuge lala lala
Jeevanavella Sundara Besuge
Eradu Manasige Olavina Besuge
Eradu Baalina Bandhana Besuge
Eradu Manasige Olavina Besuge
Eradu Baalina Bandhana Besuge
Madhura Milanake Preetiya Besuge
Januma Janumaku Aatmada Besuge
Besuge Besuge Besuge Besuge
Besuge Besuge Besuge Besuge
Jeevanavella Sundara Besuge
Besuge Besuge Besuge Besuge
Besuge Besuge Besuge Besuge
Januma Janumaku Aatmada Besuge
Save
Comments
comments