October 22, 2018
Chajji Rotti Chavalikai Song Lyrics | Mataash
Chajji Rotti Chavalikai Song Lyrics | Mataash: Chajji Rotti Chavalikai is a song from an upcoming 2018 Kannada movie Mataash, directed by S. D. Arvinda. Actor Puneeth Rajkumar lent his voice for this song written by Sunil Kumar Sudhakar and composed by music director S.D. Arvinda.
The film was Produced by Satish Pathak, Girish Patel, Chandrashekar Manur, S D Arvinda under the banners Goals & Dreamz, CROMS and Balamani Productions. Mataash features Samarth Narasimharaju, Aishwarya Shindogi, V. Manohar, Nandagopal, Raaghu ramanakoppa, Rajani Bharadwaj, Siddhanth sundar, Amogha Rahul, Balaji Shetty, Nagarjuna V, Ganesh raj, Goutham H C, Nagendra Shah, Ravikiran rajendran, Ranguswamy, Sadananda Kali, Arjun Asuri, Siddu Yarala Bannikodu, Rupa Sridhar, Rajesh PI and others.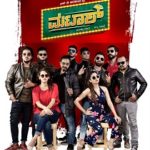 Chajji Rotti Chavalikai Song Lyrics
Movie: Mataash [2018]
Record Label: Goals & Dreamz
Music by: S. D. Arvinda
Lyrics by: Sunil Kumar Sudhakar
Sung by: Puneeth Rajkumar
Check out the lyrics here..
Udaalrappo Udaalro Oora Thumba Udaalru
Shaanyarappo Shaanyaru
Keri Thumba Shaanyaaru
Rokka Madaka Kuntaarriii
Howhaari Ninthaarrii
Chajji Rotti Chavalikaayi
Duddige Seru Badanikaay
Chajji Rotti Chavalikaayi
Duddige Seru Badanikaay
Hudgar Kandre Bagodilla
Hudgiyar Kandre Agodella
Hudgar Kandre Bagodilla
Hudgiyar Kandre Agodella
Oora Mandige Ivare Star-U
Oora Beedige Ivare Taar-U
Chajji Rotti Chajji Rotti Chajji Rotti
Chajji Rotti Chajji Chajji Chajji Cha Cha Cha
Chajji Rotti Chavalikaayi
Duddige Seru Badanikaay
Chajji Rotti Chavalikaayi
Duddige Seru Badanikaay
Rapyagilla Marriage Seryanappa Garage
Raajkeeyadolaga Seryan Sangya
Mandinella Madyaan Mangya
Kinta Kaiyaaga Hid'daana Degree
Bekanthaana Sarkaari Guggri
Malyagaithi Cyber Chakri
Alle Hudkyaana Dinallu Chokri
Chokri Chokri Chokri Chokri Chokri Chokri
Hodiri Halagi Hidiri Jolgi
Yadere Bappure
Pundi Palle Hullya Nuchchu
Chajji Rottige Yellu Hachchu
Beera Brandy Kudyovaaga Uppinakaayi Nekthaara
Nekthaara Nekthaara Nek Nek Nek Nek Nekthaara
Maava Gutka Illaradaga Sunna Thambaku Thikthaara
Thikthaara Thikthaara Thik Thik Thik Thik Thikthaara
Cricket Betting Ispit Aata Daaabadolaga Rathri Oota
Hodiri Halagi Hidiri Jolgi
Yadere Bappure
Pundi Palle Hullya Nuchchu
Chajji Rottige Yellu Hachchu
Hoy Hoy Hoy …
Appi Thappi Rokkada Kappi Thiragaatada Thiragala Tippi
Appi Thappi Rokkada Kappi Thiragaatada Thiragala Tippi
Rokkakkaagi Kodabyada Kai Rokkakkaagi Bidabyada Baay
Rokkakkaagi Kodabyada Kai Rokkakkaagi Bidabyada Baay
Karimani Illada Korala Korala Kaalungrillada Berala Berala
Karimani Illada Korala Korala Kaalungrillada Berala Berala
Hanaki Inaki Nodtara Kenaki Thinaki Kaadthaara
Hanaki Inaki Nodtara Kenaki Thinaki Kaadthaara
Hanaki Inaki Kenaki Thinaki
Hanaki Inaki Kenaki Thinaki
Chajji Rotti Chajji Rotti Chajji Rotti
Chajji Rotti Chajji Chajji Chajji Cha Cha Cha
Chajji Rotti Chavalikaayi
Udaalrappo Udaalro
Duddige Seru Badanikaay
Oora Thumba Udaalru
Chajji Rotti Chavalikaayi
Shaanyarappo Shaanyaru
Duddige Seru Badanikaay
Keri Thumba Shaanyaaru
Chajji Rotti Chavalikaayi
Duddige Seru Badanikaay
Comments
comments