October 18, 2017
Devara Aata Lyrics
Devara Aata Lyrics: Devara Aata is a song from the 1981 Kannada film Avala Hejje, directed by H.R. Bhargava. This film is loosely based on 1978 Bollywood film Trishna. Avala Hejje features Vishnuvardhan, Lakshmi, Ambarish, Dwarakish, Sundar Krishna Urs, Seetharama and others. Sangeetha is the music label of this movie. This song was composed by Rajan-Nagendra with lyrics penned by Chi. Udaya Shankar. Devara Aata was rendered by S. Janaki.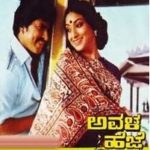 Devara Aata Lyrics
Movie: Avala Hejje [1981]
Music Label: Sangeetha
Music: Rajan-Nagendra
Lyrics: Chi. Udaya Shankar
Singer: Janaki
Check out the lyrics here..
Devara Aata Balaavaraaru
Aathana Eduru Nilluvaraaru
Kelade Sukhava Tharuva
Helade Dhukkava Koduva
Thanna Mandanthe Kunisi Aaduva
Devara Aata Balaavaraaru
Aathana Eduru Nilluvaraaru
Kelade Sukhava Tharuva
Helade Dhukkava Koduva
Thanna Mandanthe Kunisi Aaduva
Devara Aata Balaavaraaru
Aathana Eduru Nilluvaraaru
Hosa Hosa Raaga Anudina Moodi
Vida Vida Bhava Jotheyali Koodi
Santhasa Omme Vedaneyomme
Novali Hrudaya Hinduvudomme
Baalina Ee Haadina Reethi
Baalina Ee Haadina Reethi
Yaaru Indu Ballavaru
Devara Aata Balaavaraaru
Aathana Eduru Nilluvaraaru
Kaanana Barali
Koratheye Irali
Oduva Nadiyu Saaguva Haage
Hoo Banavirali
Marubhoomi Barali
Ninnede Gaali Beesuva Haage
Nillada Ee Payanada Guriya
Nillada Ee Payanada Guriya
Yaaru Indu Kandavaru
Devara Aata Balaavaraaru
Aathana Eduru Nilluvaraaru
Kelade Sukhava Tharuva
Helade Dhukkava Koduva
Thanna Mandanthe Kunisi Aaduva
Devara Aata Balaavaraaru
Aathana Eduru Nilluvaraaru
Comments
comments