May 8, 2021
Dr Rajkumar and Jayanthi Combo Kannada Movies List
Dr Rajkumar and Jayanthi Combo Kannada Movies List: The combination of Actor Rajkumar and Actress Jayanthi is considered as one of the best silver screen pair of Kannada cinema. They had acted together in more than 35 films and most of them are super hit movies. some of them are considered as evergreen movies of Kannada cinema.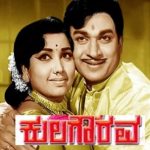 Actress Jayanthi born as 'Kamala Kumari', has acted in over 500 films in different Indian languages including Kannada, Telugu, Tamil, Malayalam, Hindi and Marathi. Jenu Goodu was her first Kannada movie.
She had the opportunity to pair with Dr Rajkumar in the 1964 Kannada movie Chandavalliya Thota directed by T. V. Singh Thakur. Later the pair went onto act together in several memorable movies.
Here in this post, we have made an attempt to list out Dr Rajkumar and Jayanthi movies. Lets check the list..
Dr Rajkumar Jayanthi Movies List
1. Sri Ramanjaneya Yudda [1963]
Director: M. Nageshwara Rao, M S Nayak
Cinematography: V. Venkat
Music: Chellapilla Satyam
Lyrics: Geetha Priya
Cast: Udaykumar, K. S. Ashwath, Pandari Bai
Production: Amrutha Kala Productions
2. Chandavalliya Thota [1964]
Director: T. V. Singh Thakur
Written by: T. R. Subba Rao [Ta.Ra.Su]
Music: T. G. Lingappa
Lyrics: R. N. Jayagopal, Ta. Ra. Su
Cast: Udaykumar, Rajasree, Balakrishna
Production: Pals & Co.
3. Thumbida Koda [1964]
Director: N. C. Rajan
Story: Janakisutha
Music: G. K. Venkatesh
Lyrics: K. S. Narasimha Swamy
Cast: K. S. Ashwath, Leelavathi, Balakrishna
Production: Sri Venkatesh Chithra
4. Muriyada Mane [1964]
Director: Y. R. Swamy
Written by: M. S. Solaimalai
Music: Vijaya Krishnamurthy
Lyrics: Ku. Ra. Seetharam Shastry
Cast: Udaykumar, K. S. Ashwath, Balakrishna
Production: Karnataka Films
5. Prathigne [1964]
Director: B. S. Ranga
Story: Shamaladevi
Music: S. Hanumantha Rao
Lyrics: Chi. Sadashivaiah
Cast: K. S. Ashwath, Narasimharaju
Production: Vikram Productions
6. Vathsalya [1965]
Director: Y. R. Swamy
Story: K. P. Kottarakkara
Music: Vijaya Krishnamurthy
Lyrics: Sorat Aswath
Cast: Udaykumar, Narasimharaju
Production: Suchithra Movies
7. Bettada Huli [1965]
Director: A. V. Sheshagiri Rao
Cinematography: K. Janakiram
Music: T. G. Lingappa
Lyrics: Geethapriya
Cast: Udaykumar, K. S. Ashwath, Pandari Bai
Production: Bhagavati Productions
8. Mahasathi Anasuya [1965]
Director: B. S. Ranga
Written by: Chi. Udaya Shankar
Music: S. Hanumantha Rao
Lyrics: Chi. Udaya Shankar
Cast: Pandari Bai, Narasimharaju, Leelavathi
Production: Vikram Productions
9. Mantralaya Mahatme [1966]
Director: T. V. Singh Thakur
Story: Rajaguru Rajacharya
Music: Rajan-Nagendra
Lyrics: G. V. Iyer
Cast: Udaykumar, Kalpana, B. Jaya
Production: Jagajyothi Films
10. Kiladi Ranga [1966]
Director: G. V. Iyer
Produced by: B. S. Ranga
Music: G. K. Venkatesh
Lyrics: G. V. Iyer
Cast: M. P. Shankar, B. Jayashree
Production: Vasantha Pictures
11. Premamayi [1966]
Director: M. R. Vittal
Written by: Sethunath
Music: R. Sudarshanam
Lyrics: Vijaya Narasimha, Narendra Babu
Cast: K. S. Ashwath, Leelavathi
Production: Srikanth & Srikanth Enterprises
12. Lagna Pathrike [1967]
Director: K. S. L. Swamy
Written by: Chi Udayashankar
Music: Vijaya Bhaskar
Lyrics: Chi. Udaya Shankar, K. Prabhakara Shastry
Cast: Narasimharaju, Dwarakish, B. V. Radha
Production: Bawa Movietone
13. Devara Gedda Manava [1967]
Director: Hunsur Krishnamurthy
Written by: S. Bhavanarayana
Music: Rajan-Nagendra
Lyrics: Hunsur Krishnamurthy
Cast: M. P. Shankar, Narasimharaju
Production: Gowri Art Films
14. Manasiddare Maarga [1967]
Director: M. R. Vittal
Screenplay by: M. Narendra Babu
Music: M. Ranga Rao
Lyrics: M. Narendra Babu, Vijaya Narasimha
Cast: Narasimharaju, K. S. Ashwath, M. P. Shankar
Production: Srikanth & Srikanth Enterprises
15. Chakra Theertha [1967]
Director: Peketi Sivaram
Story: T. R. Subba Rao
Music: T. G. Lingappa
Lyrics: R. N. Jayagopal, Ta. Ra. Su
Cast: Udaykumar, Balakrishna
Production: Sri Bhagavathi Productions
16. Immadi Pulikeshi [1967]
Director: N. C. Rajan
Story: Life story of Pulakesi II
Music: G. K. Venkatesh
Lyrics: G. V. Iyer
Cast: Udayakumar, Kalpana, Balakrishna
17. Bangalore Mail [1968]
Director: L. S. Narayana
Cinematography: R. Madhu
Music: Chellapilla Satyam
Lyrics: Chi. Udaya Shankar
Cast: Narasimharaju, Vijayasree
Production: Gowri Art Films
18. Rowdy Ranganna [1968]
Director: R. Ramamurthy
Written by: A. K. Velan
Music: Chellapilla Satyam
Lyrics: Chi. Udaya Shankar
Cast: Rajashankar, Balakrishna, Dinesh
Production: Sri Rama Enterprise
19. Jedara Bale [1968]
Director: Dorai-Bhagavan
Written by: B. Dorairaj, S. K. Bhagvan
Music: G. K. Venkatesh
Lyrics: R N Jayagopal
Cast: K. S. Ashwath, Udayakumar
Distributed by: Manthralaya Movies
20. Simha Swapna [1968]
Director: W. R. Subba Rao
Written by: S. Bhavanarayan
Music: G. K. Venkatesh
Lyrics: Chi. Udaya Shankar
Cast: Udaykumar, Narasimharaju
Production: Gowri Productions
21. Choori Chikkanna [1969]
Director: R. Ramamurthy
Written by: Kottarakara
Music: Chellapilla Satyam
Lyrics: Chi. Udaya Shankar
Cast: Narasimharaju, K. S. Ashwath
Production: Sri Rama Enterprises
22. Punarjanma [1969]
Director: Peketi Shivaram
Story: Ta. Ra. Su.
Music: Dulal Sen
Lyrics: R. N. Jayagopal
Cast: Chandrakala, T. N. Balakrishna
Production: Sri Bhagavathi Art Productions
23. Bhale Raja [1969]
Director: Y. R. Swamy
Written by: Puvai Krishnan
Music: Chellapilla Satyam
Lyrics: Sorat Aswath
Cast: B. V. Radha, K. S. Ashwath
Production: Sri Rajeshwari Pictures
24. Chikkamma [1969]
Director: R. Sampath
Story: V.M.K.
Music: T. V. Raju
Lyrics: R. N. Jayagopal
Cast: Balakrishna, Narasimharaju, Srinath
Production: S V S Film Combines
25. Nanna Thamma [1970]
Director: K. Babu Rao
Written by: K. Babu Rao
Music: Ghantasala
Lyrics: Kanagal Prabhkara Sastry
Cast: Gangadhar, R. Nagendra Rao, Balakrishna
Production: Vijaya Pictures Circuit
26. Baalu Belagithu [1970]
Director: Siddalingaiah
Written by: Siddalingaiah
Music: Vijaya Bhaskar
Lyrics: Chi Udayashankar, Vijayanarasimha
Cast: Bharathi, Dwarakish, Prabhakar
Distributed by: Chitrashree International
27. Devara Makkalu [1970]
Director: Y. R. Swamy
Story: Ma. Na. Murthy
Music: G. K. Venkatesh
Lyrics: Chi Udayashankar
Cast: Kalpana, Rajesh, Narasimharaju
Production: Bharath Enterprises
28. Paropakari [1970]
Director: Y. R. Swamy
Screenplay: Y. R. Swamy
Music: Upendra Kumar
Lyrics: Chi. Udaya Shankar, R. N. Jayagopal
Cast: Rathna, Sampath, Pandari Bai
Cinematography: R. Chittibabu
29. Sri Krishnadevaraya [1970]
Director: B. R. Panthulu
Screenplay: B. R. Panthulu
Music: T. G. Lingappa
Lyrics: K. Prabhakara Shastry
Cast: Bharathi, M. V. Rajamma, Mynavathi
Production: Padmini Pictures
30. Kasthuri Niavasa [1971]
Director: Dorai–Bhagavan
Story: G. Balasubramanium
Music: G. K. Venkatesh
Lyrics: R. N. Jayagopal, Chi. Udayashankar
Cast: K. S. Ashwath, Raja Shankar, Aarathi
Production: Anupam Movies
31. Kula Gourava [1971]
Director: Peketi Sivaram
Story: G. Balasubramanyam
Music: T. G. Lingappa
Lyrics: Chi Udayashankar, R N Jayagopal
Cast: Bharathi, Narasimharaju, Balakrishna
Production: Sri Eswari Productions
32. Baala Bandana [1971]
Director: Peketi Sivaram
Story: Jog Biyog by Ashapurna Devi
Music: G. K. Venkatesh.
Lyrics: Chi Udayashankar, Vijayanarasimha
Cast: Sampath, Dwarakish, Balakrishna, Vajramuni
Production: ALS Productions
33. Kranthi Veera [1972]
Director: R. Ramamurthy
Story: R. Rangarajan
Music: Sathyam
Lyrics: Chi. Udayashankar
Cast: Rajesh, Vajramuni, Dwarakish
Cinematography: B Dorairaj
34. Nanda Gokula [1972]
Director: Y. R. Swamy
Story: Chi. Udaya Shankar
Music: Vijaya Bhaskar
Lyrics: Chi. Udaya Shankar
Cast: Ramesh, K. S. Ashwath
Production: Shyamprasad Enterprises
35. Devaru Kotta Thangi [1973]
Director: K. S. L. Swamy
Written by: Ravi
Music: Vijaya Bhaskar
Lyrics: Ku Ra See, Purandaradasa
Cast: Srinath, Narasimharaju, Dwarakish
Production: Sri Raghavendra Productions
36. Mooruvare Vajragalu [1973]
Director: Y. R. Swamy
Story: Arun Kumar
Music: R. Sudarshan
Lyrics: Chi. Sadashivaiah, Chi. Udaya Shankar
Cast: Srinath, Aarathi, Manjula, Vajramuni
Production: Chamundeshwari Studio
37. Bahaddur Gandu [1976]
Director: A. V. Sheshagiri Rao
Screenplay by: Chi. Udaya Shankar
Music: M. Ranga Rao
Lyrics: Chi. Udaya Shankar
Cast: Balakrishna, Aarathi, Vajramuni
Production: Srikanth & Srikanth Enterprises
List of Rajkumar Jayanthi Movies
| | | |
| --- | --- | --- |
| Movie | Year | Director |
| Sri Ramanjaneya Yudda | 1963 | M. Nageshwara Rao, M S Nayak |
| Chandavalliya Thota | 1964 | T. V. Singh Thakur |
| Thumbida Koda | 1964 | N. C. Rajan |
| Muriyada Mane | 1964 | Y. R. Swamy |
| Prathigne | 1964 | B. S. Ranga |
| Vathsalya | 1965 | Y. R. Swamy |
| Bettada Huli | 1965 | A. V. Sheshagiri Rao |
| Mahasathi Anasuya | 1965 | B. S. Ranga |
| Mantralaya Mahatme | 1966 | T. V. Singh Thakur |
| Kiladi Ranga | 1966 | G. V. Iyer |
| Premamayi | 1966 | M. R. Vittal |
| Lagna Pathrike | 1967 | K. S. L. Swamy |
| Devara Gedda Manava | 1967 | Hunsur Krishnamurthy |
| Manasiddare Maarga | 1967 | M. R. Vittal |
| Chakra Theertha | 1967 | Peketi Sivaram |
| Immadi Pulikeshi | 1967 | N. C. Rajan |
| Bangalore Mail | 1968 | L. S. Narayana |
| Rowdy Ranganna | 1968 | R. Ramamurthy |
| Jedara Bale | 1968 | Dorai-Bhagavan |
| Simha Swapna | 1968 | W. R. Subba Rao |
| Choori Chikkanna | 1969 | R. Ramamurthy |
| Punarjanma | 1969 | Peketi Shivaram |
| Bhale Raja | 1969 | Y. R. Swamy |
| Chikkamma | 1969 | R. Sampath |
| Nanna Thamma | 1970 | K. Babu Rao |
| Baalu Belagithu | 1970 | Siddalingaiah |
| Devara Makkalu | 1970 | Y. R. Swamy |
| Paropakari | 1970 | Y. R. Swamy |
| Sri Krishnadevaraya | 1970 | B. R. Panthulu |
| Kasthuri Niavasa | 1971 | Dorai-Bhagavan |
| Kula Gourava | 1971 | Peketi Sivaram |
| Baala Bandana | 1971 | Peketi Sivaram |
| Kranthi Veera | 1972 | R. Ramamurthy |
| Nanda Gokula | 1972 | Y. R. Swamy |
| Devaru Kotta Thangi | 1973 | K. S. L. Swamy |
| Mooruvare Vajragalu | 1973 | Y. R. Swamy |
| Bahaddur Gandu | 1976 | A. V. Sheshagiri Rao |
Comments
comments