May 10, 2021
Dr Rajkumar and Saroja Devi Combo Kannada Movies List
Dr Rajkumar and Saroja Devi Combo Kannada Movies List: Dr Rajkumar and Actress Saroja Devi had acted together in several Kannada hit movies. Their first film was 'Anna Thangi [1958]', directed by K. R. Seetharama Sastry. The film was a remake of 1957 Tamil movie 'Makkalai Petra Magarasi' featuring starring Sivaji Ganesan and P. Bhanumathi in lead roles.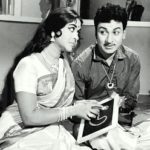 Actress Saroja Devi has acted in around 200 films in a career spanning over six decades. She has acted in Tamil, Kannada, Telugu and Hindi language movies. She played the lead heroine in 161 consecutive films in 29 years between 1955 and 1984. She is known by the epithets 'Abhinaya Saraswathi' in Kannada and 'Kannadathu Paingili' in Tamil.
Here in this post, we have made an attempt to list out Dr Rajkumar and Saroja Devi Kannada movies.
Dr Rajkumar Saroja Devi Movies List
1. Anna Thangi [1958]
Director: K. R. Seetharama Sastry
Story: A P Nagarajan
Music: G. K. Venkatesh
Lyrics: Ku Ra Seetharama Shastry
Cast: K S Ashwath, Balakrishna, Narasimharaju
Production: The Girija Productions
2. Bhookailasa [1958]
Director: K. Shankar
Written by: K. R. Seetharama Sastry
Music: R. Sudarsanam, R. Govardhanam
Lyrics: K. R. Seetharama Sastry
Cast: Kalyankumar, K S Ashwath
Distributed by: AVM Productions
3. Jagajyothi Basveshwara [1959]
Director: T. V. Singh Thakur
Story: Ma Nam Nanjappanavaru
Music: G. K. Venkatesh
Lyrics: Nanjappanavaru
Cast: Honnappa Bhagavatar, K. S. Ashwath
Production: Vikram-Paramount Studios
4. Kittur Chennamma [1961]
Director: B. R. Panthulu
Screenplay by: G V Iyer
Music: T. G. Lingappa
Lyrics: Akkamahadevi, G V Iyer
Cast: M V Rajamma, Leelavathi
Production: Padmini Pictures
5. Devasundari [1962]
Director: C. V. Raju
Cinematography: D. S. Kotnis
Music: Pandurangan
Cast: Kalyan Kumar, Narasimharaju
Production: Moonas Movietone
6. Mallammana Pavada [1969]
Director: Puttanna Kanagal
Story: B. Puttaswamayya
Music: Vijaya Bhaskar
Lyrics: Kanagal Prabhakara Shastry, Vijayanarasimha
Cast: Sampath, Balakrishna, Dwarakish
7. Nyayave Devaru [1971]
Director: Siddalingaiah
Cinematography: S. V. Srikanth
Music: Rajan-Nagendra
Lyrics: Chi. Udaya Shankar
Cast: K S Ashwath, Dwarakish, M P Shankar
Distributed by: Maharaja Movies
8. Sri Krishna Rukmini Satyabama [1971]
Director: K. S. L. Swamy
Cinematography: Chittibabu
Music: R. Sudarsanam
Lyrics: Chi Udayashankar
Cast: Aarathi, Bharathi, Dwarakish
Production: Raghunanadan Movies
9. Sri Srinivasa Kalyana [1974]
Director: Vijay
Written by: Chi. Udayashankar
Music: Rajan-Nagendra
Lyrics: Chi. Udayashankar, Chi. Sadashivaiah
Cast: Manjula, Rajashankar, Srinath
Production: Srinivasa Art Combines
10. Bhagyavantharu [1977]
Director: H. R. Bhargava
Written by: Chi. Udaya Shankar
Music: Rajan-Nagendra
Lyrics: Chi. Udaya Shankar
Cast: Ashok, Ramakrishna, Sampath
Production: Dwarakish Chitra
11. Babruvahana [1977]
Director: Hunsur Krishnamurthy
Cinematography: Srikanth
Music: T. G. Lingappa
Lyrics: Chi. Udayashankar, Hunsur Krishnamurthy
Cast: Kanchana, Jayamala, Thoogudeepa Srinivas
Production: Rajkamal Arts
12. Yarivanu [1984]
Director: Dorai-Bhagawan
Story: M. D. Sundar
Music: Rajan-Nagendra
Lyrics: Chi. Udayashankar
Cast: Master, Roopa Devi, Srinath
Production: Dakshayini Combines
List of Rajkumar Saroja Devi Movies
| | | |
| --- | --- | --- |
| Movie | Year | Director |
| Anna Thangi | 1958 | K. R. Seetharama Sastry |
| Bhookailasa | 1958 | K. Shankar |
| Jagajyothi Basveshwara | 1959 | T. V. Singh Thakur |
| Kittur Chennamma | 1961 | B. R. Panthulu |
| Devasundari | 1962 | C. V. Raju |
| Mallammana Pavada | 1969 | Puttanna Kanagal |
| Nyayave Devaru | 1971 | Siddalingaiah |
| Sri Krishna Rukmini Satyabama | 1971 | K. S. L. Swamy |
| Sri Srinivasa Kalyana | 1974 | Vijay |
| Bhagyavantharu | 1977 | H. R. Bhargava |
| Yarivanu | 1984 | Dorai-Bhagawan |
Comments
comments