November 27, 2017
Ettha Thirugali Kannu Lyrics
Ettha Thirugali Kannu Lyrics: Ettha Thirugali Kannu is a song from the 1995 Kannada movie Kavya, directed and co-produced by Kodlu Ramakrishna and based on the novel written by Vijaya Thandavamurthy and Ramakrishna himself. Kavya features Ramkumar, Sudharani, Sithara, Kalyan Kumar, Ramakrishna, Gorur Venkatram, Girija Lokesh and others. This song was composed by Sadhu Kokila with lyrics penned by Kuvempu. Ettha Thirugali Kannu was rendered by K. S. Chithra.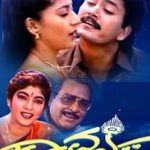 Ettha Thirugali Kannu Lyrics
Movie: Kavya [1995]
Music Label: Akash Audio
Music: Sadhu Kokila
Lyrics: Kuvempu
Singer: K. S. Chithra
Check out the lyrics here..
Eththa Thirugali Kannu Ninna Aaha Ha Ha
Eththa Thirugali Kannu Ninna Kaanuvaase
Ena Neneyali Chiththa Ninna Chinthipaase
Nudiva Naalagegonde Ninna Hesarinaase
Maniva Hanege Ihudonde Ninna Charanadaase
Maniva Hanege Ihudonde Ninna Charanadaase
Eththa Thirugali Kannu
Muththiduva Thutigonde Ninna Kenneyaase
Aalangiso Tholgonde Ninna Vakshadaase
Muththiduva Thutigonde Ninna Kenneyaase
Aalangiso Tholgonde Ninna Vakshadaase
Malle Mallige Raashi Maiyanappuva Aase
Jeeva Dumbige Moosi Thanivanoppadaase
Eththa Thirugali Kannu Ninna Kaanuvaase
Eththa Thirugali Kannu
Usiru Usirolu Ninna Olage Kolluvaase
Usiru Usiru Ninnolu Aikyavaaguvaase
Usiru Usirolu Ninna Olage Kolluvaase
Usiru Usiru Ninnolu Aikyavaaguvaase
Heeridaithu Heeri Serihoguvaase
Serihoguvaase Serihoguvaase
Eththa Thirugali Kannu Ninna Kaanuvaase
Eththa Thirugali Kannu Ninna Kaanuvaase
Ena Neneyali Chiththa Ninna Chinthipaase
Nudiva Naalagegonde Ninna Hesarinaase
Maniva Hanege Ihudonde Ninna Charanadaase
Maniva Hanege Ihudonde Ninna Charanadaase
Eththa Thirugali Kannu
Comments
comments