July 26, 2023
Horaata Lyrics – Sapta Sagaradaache Ello
Horaata Lyrics – Sapta Sagaradaache Ello: Horaata is a first single from the much awaited Kannada film of the year 'Sapta Sagaradaache Ello', written and directed by Hemanth M Rao. The film was produced by Rakshit Shetty udner the banner
Horaata song lyrics were written by MC Bijju, and Kiran Kaverappa. This song was composed by music director Charan Raj. This song was sung by Keerthan Holla and MC Bijju (Rap).
Sapta Sagaradaache Ello Kannada film features Rakshit Shetty, Rukmini Vasanth, Chaithra J Achar, Avinash, Sharath Lohitashwa, Achyutha Kumar, Pavitra Lokesh, Ramesh Indira, Gopal Krishna Deshpande and others.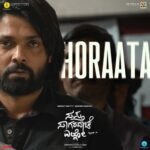 Horaata Lyrics – Sapta Sagaradaache Ello
Movie: Sapta Sagaradaache Ello [Side A]
Music: Charan Raj
Singers: Keerthan Holla, MC Bijju (Rap)
Lyrics: MC Bijju, Kiran Kaverappa
Label: Paramvah Music
Check out 'Horaata Lyrics – Sapta Sagaradaache Ello' here..
Maaye Maaye.. Ardha Chaaye
Horaata Horaata
Mugiyovaregu Ee Aledaata
Anthyaane Iradanta
Doora Teerada Hudukuta
Horaata Horaata
Parati Usi Usiralu Paradaata
Anthyane Iradanta
Ella Alivu Ulivinaata
Naale Gottirada
Baalve Nadesutha
Jwaale Hattiralu
Talme Nadeyuta
Paalil Nintirora
Chaalin Aliyuta
Seeli Hogiruva
Daaril Matte
Horaata
Ee Panajarada Badukina Horaata
Ee Mouna Hakki Dandudina Chirata
Aa Neeli Baanu Muttada
Ee Rekke Kitta Hakkiya Haro Aase Teerada
Teerada Teerada Teerada
Hana Kattada
Idela Ottada
Kaali Jebinante Mosavada Pattana
Kaanade Sukha
Baadide Mukha
Aanetane Maadi Madugide Handara
Paarada Aakashane Kai Jaridantide
Arivaada Ekanta Korala Bigidide
Hataashe Kaadide Jiddige Nintide
Samaya Sariyadagidhe
Neralu Suliyadaagide
Ratrigala Maatinalli Yaataneya Suliyalli
Mukhyavaada Amsha Baradene Gnyapaka
Doudaayisi Tulidide Maiyya Bisi Iliside
Aadaru Swatantra Kaano Kaathura
Baalina Puta Khaliyaada Kadatha
Baalina Aata Bootetina Tulitha
Baalina Hana Lootiyagi Kaledide
Ella Kade Kolakide
Aadaru Naa Badukide
Samapama sa..
Baalina Puta Khaliyaada Kadatha
Baalina Aata Bootetina Tulitha
Baalina Hana Lootiyagi Kaledide
Ella Kade Kolakide
Aadaru Naa Badukide
Comments
comments