November 21, 2017
Husi Nage Lyrics
Husi Nage Lyrics: Husi Nage is a song from an upcoming 2017 Kannada movie O Premave, directed by Manoj. The film is produced by C. T. Chanchala Kumari under the banner M K Films. O Premave features Manoj Kumar H K, Nikki Galrani, Apoorva, Huchcha Venkat, Saadhu Kokila, Ranghayana Raghu, Prashanth Siddi and others. Aananda Audio is the music label of this movie. This song was composed by Anand Rajavikram – Rahul Dev with lyrics penned by Chandan Raj. Husi Nage was rendered by Anjana Selvakumar and Rahul Dev.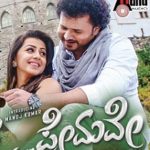 Husi Nage Lyrics
Movie: O Premave [2017]
Music Label: Aananda Audio
Music: Anand Rajavikram – Rahul Dev
Lyrics: Chandan Raj
Singers: Anjana Selvakumar, Rahul Dev
Check out the lyrics here..
Husi Nage Usiraaduthide Nannalli
Bage Bage Bayakegalallu Ninade Chaaye
Husi Nage Usiraaduthide Nannalli
Bage Bage Bayakegalallu Ninade Chaaye
Kanasella Bandu Kanninale Ninthide
Thaakisalu Ninna Kudi Notavanna
Ee Notavu Indu Ninnedege Saagide
Koodidalu Ninna Hudugaatavanna
Anumathi Padeyade Horataythu Ee Bhavaloka
Ninna…………… Suththa Naaka Arere Seletha
Usiridu Bayaside Nina Swantha Yekaanthavanna
Naa Surive Nooraaru Banna Nagutha Nagutha
Maathellavu Khali Ee Mounada Santheyalli
Naa Nudiyali Hege Manadaase Ninnedurali
Ee Bhavada Malige Ninagaagi Therediruva Ghalige
Ee Maligeya Olage Adi Haaku Nee Mellage
Bevarithu Manasidu Belesuththa Anuraaga Beleya
Ninagaagi Maduththa Krushiya Geleya Geleya
Palagithu Hrudayada Yerilitha Ninninda Eega
Ani Maadu Nanagaagi Jaaga Manadi Iniya
Mooduththide Saluge Nee Roopugondanthe Olage
Ee Salugeya Aleyu Berethaaythu Ninnondige
Ee Jeevada Jothege Aledaadu Nee Koneya Varege
Danivagada Haage Naaniruve Ninnondige
Arere Enide Ee Hudugiya Manasinali
Arere Enide Ee Hudugiya Kanasinali
Arere Enide Ee Hudugiya Manasinali
Arere Enide Ee Hudugiya Kanasinali
Comments
comments