October 31, 2018
Idu Nannooru Song Lyrics | Palegara
Idu Nannooru Song Lyrics | Palegara: Idu Nannooru Ellaru Nannoru is a Kannada song from the 1996 Kannada movie Palegara, directed by N Omprakash Rao and produced by S. V. S Chinni and M. K. Prakash under the banner Sri Sai Subhadra Films. This was the first remake of the 1994 Tamil film Nattamai starring Sharath Kumar, Meena and Kushboo.
Palegara features Ambarish, Khushbu, Nirosha, Srikanya, Anandraj, Dheerendra Gopal, Vajramuni, Sarigama Viji, Tennis Krishna, Manu, Rajanand, Brahmavar, Madhukar, Shobhraj, Venki, Chikkanna, Dharanendraiah, Gangadhar, Shani Mahadevappa, B V Radha, Poojitha, Anuja, Vanishree, Jyothi, Prema and others.
Anand Audio is the music label of this movie. This song was written and composed by Hamsalekha. Idu Nannooru Ellaru Nannoru song was rendered by S. P. Balasubrahmanyam.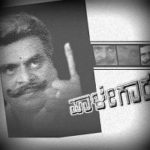 Idu Nannooru Lyrics
Movie: Palegara [1996]
Music Label: Anand Audio
Music by: Hamsalekha
Lyrics by: Hamsalekha
Singer: S. P. Balasubrahmanyam
Check out the lyrics here..
Baanigobba Soorya
Bhoomigobba Chandra
Lokakobba Devanu
Mathigobba Rama
Preethigobba Shyaama
Daanakobba Karnanu
Neethigobba Dheera Nammoora Palegara
Nyaayakobba Shoora Nammoora Palegara
Idu Nannooru Ellaru Nannoru
Idu Nannooru Ellaru Nannoru
Iroru Iradoru Ellaru Nanna Bandhu Bandhavaru
Idu Nannooru Ellaru Nannoru
Idu Nannooru Ellaru Nannoru
Nyaya Yaranu Nindisadu
Huliya Veshada Govu Adu
Sathya Yaranu Noyisadu
Paapa Tholeyuva Gange Adu
Neethigobba Thamma Sevegobba Thimma
Kanthegobba Brahma
Vedakobba Vyasa Kaadigobba Daasa
Kaasigobba Shrinivaasa
Kotigobba Shoora Nammoora Palegara
Nyayakobba Dheera Nammoora Palegara
Idu Nannooru Ellaru Nannoru
Idu Nannooru Ellaru Nannoru
Nagoru Nondavaru Ellaru Nanna Bandhu Bandhavaru
Idu Nannooru Ellaru Nannoru
Idu Nannooru Ellaru Nannoru
Nyaya Endare Samabhaava
Thoogo Thakkadi Nanna Jeeva
Sathya Endare Nija Roopa
Thoro Kannadi Nanna Roopa
Thaayi Maathigobba
Thaayi Bhashegobba
Thaayi Naadigobba
Prema Sevegobba
…………………………
Shanthi Morrthigobba
Nera Mathugaara Namoora Palegaara
Nyaya Soothradhaara Nammoora Paalegaara
Idu Nammooru Ellaru Nammoru
Idu Nammooru Ellaru Nammoru
Iroru Iradoru Ellaru Nanna Bandhu Bandhavaru
Idu Nammooru Ellaru Nammoru
Idu Nammooru Ellaru Nammoru
Baanigobba Soorya
Bhoomigobba Chandra
Lokakobba Devanu
Mathigobba Rama
Preethigobba Shyaama
Daanakobba Karnanu
Neethigobba Dheera Nammoora Palegara
Nyaayakobba Shoora Nammoora Palegara
Comments
comments