October 29, 2018
Kannadada Kanda Song Lyrics | Anuragada Alegalu
Kannadada Kanda Song Lyrics | Anuragada Alegalu: Kannadada Kanda Yia Yia Ho is a Kannada song from the 1993 movie Anuragada Alegalu, written and directed by S. Narayan. The film was produced by Smt Parvathamma Rajkumar under the banner Sri Vaishnavi Combines.
Anuragada Alegalu features Raghavendra Rajkumar, Mamathashree, Balaraj, K. S. Ashwath, Thoogudeepa Srinivas, Prithviraj, Tennis Krishna, Vaishali Kasaravalli, Shobhraj, Shanthamma, Rekha, M. S. Rajshekar, Rockline Venkatesh, Bheema Rao, Sampangi, Ashwath Narayan, Kunigal Ramanath, Master Vinay Rajkumar [Raghavendra Rajkumar's son] and others.
Sangeetha is the music label of this film. This song was written and composed by Hamsalekha. Kannadada Kanda Yia Yia Ho song was rendered by Raghavendra Rajkumar.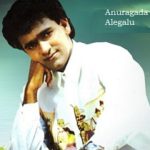 Kannadada Kanda Lyrics
Movie: Anuragada Alegalu [1993]
Audio On: Sangeetha
Music by: Hamsalekha
Lyrics by: Hamsalekha
Singer: Raghavendra Rajkumar
Check out the lyrics here..
Kannadada Kanda Yia Yia Ho
Ellarigu Chanda Yia Yia Ho
Maathu Kottare Manninaane Ittare
Jeeva Kodo Kanda
Kasthuriya Kanda Yia Yia Ho
Lokakkella Chanda Yia Yia Ho
Preethi Ittare Bennu Thatti Kottare
Haadu Helo Kanda
Kannadada Kanda Yia Yia Ho
Ellarigu Chanda Yia Yia Ho
Kannadada Anda Chanda Hadithiddare
Nithya Mooru Hoththu Saaladu
Kannadada Kavyagala Keluthiddare
Sathya Bittu Yenu Thochadu
Cheluve Cheluve Kannadathi
Avale Dina Spoorthi
Namage Avala Varadinda
Ajaraamara Keerthi
Kannada Nelake Kaveriya Kalake Runa Patta Kanda
Kannadada Kanda Yia Yia Ho
Ellarigu Chanda Yia Yia Ho
Maathu Kottare Manninaane Ittare
Jeeva Kodo Kanda
Kannadada Kanda Yia Yia Ho
Ellarigu Chanda Yia Yia Ho
Anuraagadalegala Mele
Sangeetha Swaragala Leele
Nadedaaga Jeevana Gaana
Rasapoornavo
Oo Manase Kadalaagiru Mugilaagiru
Malligeya Sampigeya Kampu Beeruva
Chandanada Haadu Kattuve
Uththarada Dakshinada Impu Soosuva
Pashchimada Raaga Haakuve
Poorvaa Parada Hitha Nodi
Haadi Naa Nalive
Naduve Naduve Nagu Beresi
Nimma Mana Geluve
Neeve Illade Jeevana Yellide
Naanu Nimma Kanda
Kannadada Kanda Yia Yia Ho
Ellarigu Chanda Yia Yia Ho
Maathu Kottare Manninaane Ittare
Jeeva Kodo Kanda
Kannadada Kanda Yia Yia Ho
Ellarigu Chanda Yia Yia Ho
Kannadada Kanda Yia Yia Ho
Ellarigu Chanda Yia Yia Ho
Comments
comments