June 19, 2018
Kaviya Samaya Lyrics | Deergha Sumangali
Kaviya Samaya Lyrics | Deergha Sumangali:  Kaviya Samaya is a song from the 1995 Kannada movie Deergha Sumangali, directed by D. Rajendra Babu and produced by D. R. Umashankari, R. Venkata Raju under the banner Adithya Movie Makers. Deergha Sumangali features Sithara, Devan, Ramakrishna, Srinivasa Murthy, B. V. Radha, Lakshman, Richard Louis, Srishailan, M. S. Karanth, Brahmavar and others with Vishnuvardhan in Guest Appearance. Jhankar Music is the music label of this movie. This song was composed and written by Hamsalekha. Kaviya Samaya Yaavudo song was rendered by playback singers S. P. Balasubrahmanyam and S. Janaki.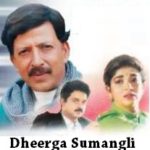 Kaviya Samaya lyrics
Movie: Deergha Sumangali [1995]
Music Label: Jhankar Music
Music: Hamsalekha
Lyrics: Hamsalekha
Singers: S. P. Balasubrahmanyam, S. Janaki
Check out the lyrics here..
Heyyyy Heyyyy Heyyyy…
Kaviya Samaya Yaavudo
Ooo Ooo Ooo
Rathiya Hrudaya Yaarado
Ooo Ooo Ooo
Vaathsaayana Baa Bareduko
Shrungaaradaaa Saaleleduko
Kaviya Samaya Yaavudo
Ooo Ooo Ooo
Rathiya Hrudaya Yaarado
Ooo Ooo Ooo
Dhum Dhum Dhum Dhumdhum…
Jagada Prana Devanivanu Madananu Thilidiko
Kaama Pooja Lolanivanu Madananu Bareduko
Anuraaga Holeya Hoodoni Ivanu
Sukhavaagi Mulugi Baraballa Ivanu
Rasikanu Sukhada Janakanu
Kaviya Samaya Yavudo Ooo Ooo Ooo
Rathiya Hrudaya Yaarado Ooo Ooo Ooo
Vaathsaayana Baa Bareduko
Shrungaaradaaa Saaleleduko
Kaviya Samaya Yaavudo Ooo Ooo Ooo
Rathiya Hrudaya Yaarado Ooo Ooo Ooo
Nayana Baaninaaladolage Minchide Bareduko
Adhara Jena Theeradolage Ale Ide Bareduko
Shrungaara Sheela Mereyuvuda Noda
Sangeetha Kaala Maresuvuda Noda
Kavitheyu Prema Charitheyu
Kaviya Samaya Yavudo Ooo Ooo Ooo
Rathiya Hrudaya Yaarado Ooo Ooo Ooo
Vaathsaayana Baa Bareduko
Shrungaaradaaa Saaleleduko
Comments
comments