November 3, 2017
Madhura Ee Kshana Lyrics
Madhura Ee Kshana Lyrics: Madhura Ee Kshana is a song from the 1994 Kannada movie Odahuttidavaru, directed by Dorai – Bhagawan. Odahuttidavaru features Rajkumar, Ambareesh, Madhavi, Srishanti, Vajramuni, K. S. Ashwath, Balakrishna, Umashree and others. The film was the last work of the acclaimed lyricist Vijaya Narasimha. Sangeetha is the music label of this movie. This song was composed by Upendra Kumar with lyrics penned by M. N. Vyasa Rao. Madhura Ee Kshana was rendered by Rajkumar and Manjula Gururaj.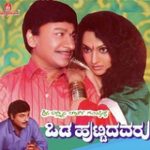 Madhura Ee Kshana Lyrics
Movie: Odahuttidavaru [1994]
Music Label: Sangeetha
Music: Upendra Kumar
Lyrics: M. N. Vyasa Rao
Singers: Rajkumar, Manjula Gururaj
Check out the lyrics here..
Madhura Ee Kashana Naduguthide Chalige Maimana
Madhura Ee Kashana Naduguthide Chalige Maimana
Jothe Neenu Iralu Aase Tharalu Bidade Bayaside Milana
Aha Madhura Ee Kashana Naduguthide Chalige Maimana
Jothe Neenu Iralu Aase Tharalu Bidade Bayaside Milana
Madhura Ee Kashana Naduguthide Chalige Maimana
Madhuchandra Kande Naanu Bari Tholinalle
Madhumaasa Thande Neenu Ruthuvarshadalle
Bidalaare Endu Ninna Oo Muddu Nalle
Malegaagi Kaadu Nintha Navilaade Naanu
Olavanne Dhare Ereda Mugilaade Neenu
Shrungaara Laasyadolage Rasakamadhenu
Madadi Ninna Nudiya Keli Karagi Hode Naa
Aha Madhura Ee Kashana Naduguthide Chalige Maimana
Jothe Neenu Iralu Aase Tharalu Bidade Bayaside Milana
Aha Madhura Ee Kashana Naduguthide Chalige Maimana
Kudi Meese Haida Neenu Kannnadada Kanda
Pathiyaagi Padede Ninna Shri Raamachandra
Iruvanthe Raviyu Dharege Nanagendu Neene
Karunaada Cheluve Neenu Sogasaada Anda
Edeyaase Nudiva Ninna Ee Kanne Chanda
Mana Thumbi Bande Neenu Anuraagadinda
Olida Jodi Hrudaya Koodi Naliva Sambhrama
Aha Madhura Ee Kashana Naduguthide Chalige Maimana
Aha Madhura Ee Kashana Naduguthide Chalige Maimana
Jothe Neenu Iralu Aase Tharalu Bidade Bayaside Milana
Aha Madhura Ee Kashana Naduguthide Chalige Maimana
Comments
comments