February 27, 2018
Mareyada Haadu Kannada Song Lyrics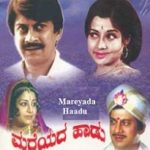 Mareyada Haadu Kannada Song Lyrics: Mareyada Haadi is a 1981 Kannada Movie, directed and written by R. N. Jayagopal under the production of K V S Movies. The movie was produced by K. S. Sacchidananda.
Mareyada Haadu features Ananth Nag, Manjula, Sundar Krishna Urs, Leelavathi, Shivaram, Rajashankar, Dingri Nagaraj, Chethan, Ramarao, Venkatarao and others. Sangeetha was the music label of this movie.
All sound tracks for this movie were composed by G. K. Venkatesh with lyrics penned by R. N. Jayagopal. Mareyada Haadu Songs were rendered by S. P. Balasubramanyam, S. Janaki and P. B. Sreenivas.
Check Out The Lyrics Here…
Baanali Thaara Brundada Naduve Lyrics
Movie: Mareyada Haadu [1981]
Music Label: Sangeetha
Music: G. K. Venkatesh
Lyrics: R. N. Jayagopal
Singers: P. B. Srinivas
Janthar Panthar Maya Manthar Lyrics
Movie: Mareyada Haadu [1981]
Music Label: Sangeetha
Music: G. K. Venkatesh
Lyrics: R. N. Jayagopal
Singers: S. Janaki
Sukhada Swapna Gaana Lyrics
Movie: Mareyada Haadu [1981]
Music Label: Sangeetha
Music: G. K. Venkatesh
Lyrics: R. N. Jayagopal
Singers: S. Janaki
Bhuvaneshwariya Nene Maanasave Lyrics
Movie: Mareyada Haadu [1981]
Music Label: Sangeetha
Music: G. K. Venkatesh
Lyrics: Mutthaiah Bhagavathar
Singers: S. Janaki
Rangoli Banali Lyrics
Movie: Mareyada Haadu [1981]
Music Label: Sangeetha
Music: G. K. Venkatesh
Lyrics: R. N. Jayagopal
Singers: S. P. Balasubramanyam, S. Janaki
Comments
comments