May 31, 2021
Munjaaneddu Kumbaaranna Song Lyrics | Kannada Janapada Song
Munjaaneddu Kumbaaranna Song Lyrics | Kannada Janapada Song: Munjaaneddu Kumbaaranna is a popular Kannada folk song known as 'Janapda Geethegalu' in Karnataka. These are the songs created by ordinary people but they have extraordinary emotion, feeling and devotion in them.
They have created songs for all kind of emotions, situations and celebrations. These songs were passed on from generation to generation by oral tradition and the writers of these songs remain anonymous.
Over the year, This folk song Munjaaneddu Kumbaaranna was re-created by various artists and rendered by various singers.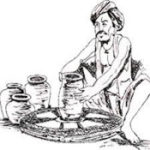 Munjaaneddu Kumbaaranna Lyrics
Genre: Folk / Janapada
Language: Kannada
Music: Janapada
Lyrics: Janapada
Singer: Various
Check out Munjaaneddu Kumbaaranna song lyrics here..
Munjaneddu Kumbaranna Haalu baanundaana
Haaryaadi Manna Thulidaana
Haari Haaryaadi Manna Thuliyuttha Maadyaana
Naaryaaru Horuvantha Airaani
Munjaneddu Kumbaranna Haalu baanundaana
Haaryaadi Manna Thulidaana
Haaryaadi Manna Thulidaana
Hottareddu Kumbaaranna Thuppa baanundana
Ghatteesi Manna Thulidaana
Ghatteesi Manna Thuliyutta Maadyana
Mithreru Horuvantha Airana
Munjaneddu Kumbaranna Haalu baanundaana
Haaryaadi Manna Thulidaana
Akki hittu Naavu Takkondu Thandeevi
Gindeeli Thandeevi Thiliduppa
Gindeeli Thandeevi Thiliduppa Kumbaaranna
Tandeedu Namma Airani
Munjaneddu Kumbaranna Haalu baanundaana
Haaryaadi Manna Thulidaana
Kumbarannana Madadi Kadadaga Kaiyittu
Kodada Myaalena Baredaala
Kodada Myaalena Baredaala Kalyanada
Sharana Basavana Nilisyaala
Munjaneddu Kumbaranna Haalu baanundaana
Haaryaadi Manna Thulidaana
Haari Haaryaadi Manna Thuliyuttha Maadyaana
Naaryaaru Horuvantha Airaani
Naaryaaru Horuvantha Airaani
Comments
comments