June 19, 2018
Naanu Ninnannu Mechchide Lyrics
Naanu Ninnannu Mechchide Lyrics: Naanu Ninnannu Mechchide is a song from the 1995 Kannada movie Deergha Sumangali, directed by D. Rajendra Babu and produced by D. R. Umashankari, R. Venkata Raju under the banner Adithya Movie Makers. Deergha Sumangali features Sithara, Devan, Ramakrishna, Srinivasa Murthy, B. V. Radha, Lakshman, Richard Louis, Srishailan, M. S. Karanth, Brahmavar and others with Vishnuvardhan in Guest Appearance. Jhankar Music is the music label of this movie. This song was composed and written by Hamsalekha. Naanu Ninnannu Mechchide song was rendered by playback singer Mano.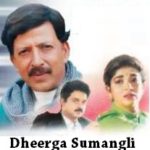 Naanu Ninnannu Mechchide Lyrics
Movie: Deergha Sumangali [1995]
Music Label: Jhankar Music
Music: Hamsalekha
Lyrics: Hamsalekha
Singers: Mano
Check out the lyrics here..
Naanu Ninnannu Mechchide Goththa
Nanna Arjiyu Manasalli Biththa
Naanu Ninnannu Mechchide Goththa
Nanna Arjiyu Manasalli Biththa
Dayamaadi Ruju Maadu
Kannina Kannina Kunchadi
Naanu Ninnannu Mechchide Goththa
Nanna Arjiyu Manasalli Biththa
Naananthu Onti Yaagi Idde
Nee Nanna Ontithana Kadde
Nooraaru Aasegala Thande
Naa Nambi Preethiinda Bande
Krupe Maadi Kare Needu
Hennina Hennina Adharadi
Naanu Ninnannu Mechchide Goththa
Nanna Arjiyu Manasalli Biththa
Naanu Ninnannu Mechchide Goththa
Nanna Arjiyu Manasalli Biththa
Dayamaadi Ruju Maadu
Kannina Kannina Kunchadi
Naanu Ninnannu Mechchide Goththa
Nanna Arjiyu Manasalli Biththa
Neenondu Ogatina Chithra
Naa Ninna Hrudayada Mithra
Preethiya Ondu Putta Haadu
Heloke Nodu Nanna Paadu
Daya Maadi Vara Needu
Hennina Hennina Hrudayadi
Naanu Ninnannu Mechchide Goththa
Nanna Arjiyu Manasalli Biththa
Naanu Ninnannu Mechchide Goththa
Nanna Arjiyu Manasalli Biththa
Dayamaadi Ruju Maadu
Kannina Kannina Kunchadi
Naanu Ninnannu Mechchide Goththa
Nanna Arjiyu Manasalli Biththa
Comments
comments