August 10, 2017
Nagutha Nagutha Baalu Lyrics
Nagutha Nagutha Baalu Lyrics: Nagutha Nagutha Baalu is a famous song from the 1989 Kannada movie Parashuram, directed by V. Somashekhar. This was V. Somashekhar's last movie with Dr. Rajkumar, who incidentally started his directing career with Dr. Rajkumar's Bangaarada Panjara. Parashuram features Dr. Rajkumar, Vani Viswanath, Puneeth Rajkumar, Thoogudeepa Srinivas, C.R. Simha, Doddanna and others. This song was composed by Hamsalekha with lyrics written by Chi. Udayashankar and Hamsalekha. Nagutha Nagutha Baalu song was rendered by Dr. Rajkumar.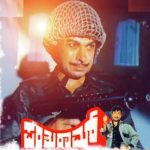 Nagutha Nagutha Baalu Lyrics
Movie: Parashuram [1989]
Music Label: Sangeetha
Music: Hamsalekha
Lyrics: Chi. Udayashankar
Singer: Dr. Rajkumar
Check out the lyrics here..
Nagutha Nagutha Baalu Neenu Nooru Varushaa
Endu Heege Irali Irali Harushaa Harushaa
Baalina Deepaa Ninna Nagu
Devara Roopa Neene Magu
Nagutha Nagutha Baalu Neenu Nooru Varushaa
Endu Heege Irali Irali Harushaa Harushaa
Ullasada Shubha Dinake Santhoshave Udugoreyu
Hoovu Nakkaagaa Thaane Anda Iruvudu Dhumbi Baruvudu
Chandra Nakkaga Thaane Belaku Baruvudu Kadalu Kunivudu
Suryanaado Jaaro Ata Baanu Nagalende
Biso Gaali Thoogo Pairu Bhoomi Nagalende
Devaru Thandha Shrushitya Andha Yellaru Nagalende
Nagutha Nagutha Baalu Neenu Nooru Varushaa
Endu Heege Irali Irali Harushaa Harushaa
Akaashaadaache Ello Devarillavo Huduka Bedavo
A Maayaagaara Thaanu Giriyalillavo Gudiyalillavo
Preethiyalli Snehadhalli Iruvunu Ondaagi
Thampinallu Kampinallu Baruvanu Hithavaagi
Santhasadalli Sambhramadalli Makkala Naguvaagi
Nagutha Nagutha Baalu Neenu Nooru Varushaa
Endu Heege Irali Irali Harushaa Harushaa
Baalina Deepaa Ninna Nagu
Devara Roopa Neene Magu
Nagutha Nagutha Baalu Neenu Nooru Varushaa
Endu Heege Irali Irali Harushaa Harushaa
Ullasada Shubha Dinake Santhoshave Udugoreyu
Ullasada Shubha Dinake Santhoshave Udugoreyu
Comments
comments