August 12, 2017
Nalla Songs Lyrics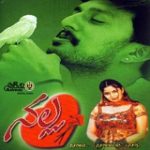 Nalla Songs Lyrics: Nalla is a 2004 Kannada movie, directed by V. Nagendra Prasad. Nalla features Sudeep, Sangeetha, Srinath, Naveen Mayur, Apoorva, Chitra Shenoy, Tara and others. This is remake of 1982 Tamil movie Moondram Pirai.
The songs were composed by Venkat Narayan with the lyrics written by V. Nagendra Prasad. The songs for the movie Nalla were rendered by Tippu, Malathi, Rajesh Krishnan, Srinivas, Lakshmi, Narayan, Nanditha, Unnikrishnan, Harini and R. P. Patnaik.
Check out the lyrics here..
Mallige Mallige Madammu Lyrics
Movie: Nalla [2004]
Music Lable: Ashwini Audio
Music: Venkat Narayan
Lyrics: V. Nagendra Prasad
Singers: Tippu, Malathi
Malage Malage Gubbi Mari Lyrics
Movie: Nalla [2004]
Music Lable: Ashwini Audio
Music: Venkat Narayan
Lyrics: V. Nagendra Prasad
Singer: Rajesh Krishnan
Nijana Nijana Ee Preethi Nijana Lyrics
Movie: Nalla [2004]
Music Lable: Ashwini Audio
Music: Venkat Narayan
Lyrics: V. Nagendra Prasad
Singer: Srinivas, Lakshmi
Huduga Elli Neenu Lyrics
Movie: Nalla [2004]
Music Lable: Ashwini Audio
Music: Venkat Narayan
Lyrics: V. Nagendra Prasad
Singer: Nanditha
Huchchu Preethiyannu Lyrics
Movie: Nalla [2004]
Music Lable: Ashwini Audio
Music: Venkat Narayan
Lyrics: V. Nagendra Prasad
Singer: Narayan
Machcha Dove Hodiyod Lyrics
Movie: Nalla [2004]
Music Lable: Ashwini Audio
Music: Venkat Narayan
Lyrics: V. Nagendra Prasad
Singer: Rajesh Krishnan
Gap Chup Pranayada Raaga Lyrics
Movie: Nalla [2004]
Music Lable: Ashwini Audio
Music: Venkat Narayan
Lyrics: V. Nagendra Prasad
Singers: P. Unnikrishnan, Harini
Save
Comments
comments