April 6, 2018
Nammee Baale Rasamaya Song Lyrics
Nammee Baale Rasamaya Song Lyrics: Nammee Baale Rasamaya is song from the 1981 Kannada movie Naaga Kaala Bhairava (Naga Kala Bhairava), directed by Thiptur Raghu. This film was produced by M. Pandurangan and M. Ramalingam under the banner Sri Lakshmi Cine Productions. Naaga Kaala Bhairava features Vishnuvardhan, Jayanthi, Jayamala, Ashalatha, Dheerendra Gopal, Chandrashekar, Musuri Krishnamurthy, Baby Sangeetha, Baby Meena, Dinesh, Tiger Prabhakar, Shakthi Prasad, Saikumar and others.
Sangeetha was the music label of this movie. This song was composed by M. Ranga Rao with lyrics penned by one of the reputed lyricist Vijaya Narasimha. Nammee Baale Rasamaya Song was rendered by one of the greatest singer of Indian cinema, K. J. Yesudas and singer Bangalore Latha.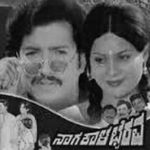 Nammee Baale Rasamaya Lyrics
Movie: Naaga Kaala Bhairava [1981]
Music Label: Sangeetha
Music: M. Ranga Rao
Lyrics: Vijaya Narasimha
Singers: K. J. Yesudas, Bangalore Latha
Check out the lyrics here..
Nammee Baale Rasamaya Kaavya
Puta Putavu Navya
Nammee Premada Bhaava Tharanga
Dina Dinavu Divya
Nammee Baale Rasamaya Kaavya
Puta Putavu Navya
Raagha Sudha Rasa Dhaare Baare
Moodi Bandire Manasaare
Raagha Sudha Rasa Dhaare Baare
Moodi Bandire Manasaare
Ramya Manohara Raasa Leele
Ramya Manohara Raasa Leele
Bhavya Jeevanada Uyyale
Nammee Baale Rasamaya Kaavya
Puta Putavu Navya
Aasha Gaganada Chandira Thaare
Aadevu Naave Guri Sere
Dapa Mapa Aa Aa Aa
Nida Pada Aa Aa Aa
Sani Dani Aa Aa Aa
Nini Nipa Aa Aa
Aasha Gaganada Chandira Thaare
Aadevu Naave Guri Sere
Pranaya Vilaasada Vihaaradalli
Pranaya Vilaasada Vihaaradalli
Mai Mana Marethavu Banadalli
Nammee Baale Rasamaya Kaavya
Puta Putavu Navya
Nammee Premada Bhaava Tharanga
Dina Dinavu Divya
Nammee Baale Rasamaya Kaavya
Puta Putavu Navya
Comments
comments