May 26, 2018
Pancharangi Giniye Lyrics
Pancharangi Giniye Lyrics: Pancharangi Giniye is a song from the 1992 Kannada movie Sindhoora Thilaka, directed by Om Saiprakash and produced by Kandepi Sathyanarayana under the banner R. S. Arts. Sindhoora Thilaka feautres Sunil, Shruthi, Malashree, Jaggesh, Jai Jagadish, Abhijith, Mukyamanthri Chandru, Umashree, Padma Kumata, Rathnakar, Ashalatha, Om Saiprakash and others.
This film was a remake of 1990 Tamil film Kizhakku Vasal starring Kathik, Revathi and Kushbu. Lahari Music is the music label of this movie. This song was composed by Upendra Kumar with lyrics written by renowned lyricist R. N. Jayagopal. Pancharangi Giniye song wasrendered by S. P. Balasubrahmanyam.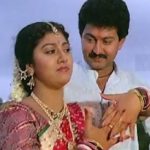 Pancharangi Giniye Lyrics
Movie: Sindhoora Thilaka [1992]
Music Label: Lahari Music
Music: Upendra Kumar
Lyrics: R. N. Jayagopal
Singer: S. P. Balasubrahmanyam
Check out the lyrics here..
Pancharangi Giniye Muthtu Rathna Maniye
Pancharangi Giniye Muthtu Rathna Maniye
Bangaarada Hoove Chendulli Cheluve
Bangaarada Hoove Chendulli Cheluve
Thangaali Thampinali Thinagala Sompinali
Malagu Haayaagi Nee
Chandirana Magale Indirana Soseye
Malligeya Arale Maamarada Sasiye
Marethu Ella Chinthe Honganasu Kaanuvanthe
Malagu Haayaagi Nee
Doori Doori Dundaalamma Doori Doori
Laali Laali Dundaalamma Laali Laali
Nee Reppe Muchchidare Swapnada Beedi
Aa Belli Beediyali Chinnada Theru
Nee Reppe Muchchidare Swapnada Beedi
Aa Belli Beediyali Chinnada Theru
Aa Honna Therinali Nee Baruvaaga
Shukravaara Lakshmiyanthe Aa Aibhogha
Naviloora Navile Oo Belli Mugile
Soundaryada Siriye Binnanada Nidhiye
Thangaali Thampinali Thinagala Sompinali
Malagu Haayaagi Nee
Doori Doori Dundaalamma Doori Doori
Laali Laali Dundaalamma Laali Laali
Ningaagi Thaaregalu Zari Seere Thanthu
Kogileyu Kannige Kaadige Thanthu
Ningaagi Thaaregalu Zari Seere Thanthu
Kogileyu Kannige Kaadigeya Thanthu
Ningaagi Naa Hosadu Haadondu Thande
Haadinda Mai Maresu Malagisalu Bande
Pancharangi Giniye Muthtu Rathna Maniye
Bangaarada Hoove Chendulli Cheluve
Thangaali Thampinali Thinagala Sompinali
Malagu Haayaagi Nee
Chandirana Magale Indirana Soseye
Malligeya Arale Maamarada Sasiye
Marethu Ella Chinthe Honganasu Kaanuvanthe
Malagu Haayaagi Nee
Doori Doori Dundaalamma Doori Doori
Laali Laali Dundaalamma Laali Laali
Comments
comments