October 12, 2017
Sanchalana Lyrics
Sanchalana Lyrics: Sanchalana is a song from an upcoming Kannada movie Heegondhu Dina, directed by Vikram Yoganand. Heegondhu Dina features Sindhu Loknath, Praveen Tej, Guru Prasad, Mithra, Shobraj, Giri, Girija Lokesh, Balaji Manohar and others. Divo is the music label of this movie. This song was composed by Abhilash Gupta with lyrics written by Ramakrishna Ranagatti. Sanchalana was rendered by Sparsha RK and Abhilash Gupta.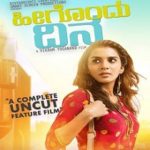 Sanchalana Lyrics
Movie: Heegondhu Dina [2017]
Music Label: Divo
Music: Abhilash Gupta
Lyrics: Ramakrishna Ranagatti
Singers: Sparsha RK, Abhilash Gupta
Check out the lyrics here..
Eno Eneno
Bhavaneyalleno
Shuruvaithu Nee Soochane
Ello Ellello
Manavu Ellello
Kaled Hoithilli Kalpane
Nanna Nannalli Khali Mandalli
Padavirada Padya Moodide
Ninna Naanalli Sanna Naguvalli
Swaravirada Haadu Haadide
Sanchalana Thande Neenu
Sanchalana Alli Naanu
Sanchalana Thande Neenu
Sanchalana Alli Naanu
Ale Aleya Sanchalana Naanaade
Naviraade Naviraade Hakkiyanthe Naanu
Athiyaagi Athiyaagi Ukkinarale Naanu
Sariyaagi Sariyaagi Seledukonde Neenu
Nanagagi Nanagagi Ilidu Bande Neenu
Nanne Naanu Bachhikondu Idalenu Kavivadana
Mounadalli Kavanadalli Iralenu Anuraga Anuraga Neene
Manamidiva Manamidiva
Sanchalana Sanchalana
Ninnade Ninnade
Innashtu Doora
Jotheya Sanchara
Sagabaarade Mundake
Aadashtu Bega
Ondaagisoke
Barabekaagide Sanchike
Ale Aleya Sanchalana
Manamidiva Sanchalana
Nagu Naachi Saaguthide
Olavinali Sanchalana
Sanchalana
Olavina Ee Sanchalana
Comments
comments