January 7, 2018
Shraavana Sanje Song Lyrics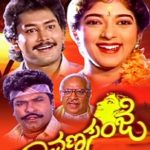 Shraavana Sanje Song Lyrics: Aakaashave Ee Shraavana Sanje is a song from the 1995 Kannada movie Shraavana Sanje, directed by A. T Raghu. Shraavana Sanje features Charanraj, Sithara, Ramkumar, Surya, Agro Chikkanna, Avinash, Maishree, Andanappa, Rajanand, H G Somashekar Rao, Sihikahi Geetha, Jyothi, Gayathri Prabhakar and others. Sangeetha Music was the music label of this movie.
All Songs of the movie were composed by Upendra Kumar with lyrics penned by R. N. Jayagopal and Doddarange Gowda. Songs were rendered by B.R. Chaya, Premalatha Diwakar, Sangeeta Katti, Dr. Rajkumar, S. P. Balasubrahmanyam, Usha Ganesh.
Check out the lyrics here..
Aakaashave Ee Shraavana Sanje Lyrics
Movie: Shraavana Sanje [1995]
Music Label: Sangeetha
Music: Upendra Kumar
Lyrics: R. N. Jayagopal
Singers: Sangeeta Katti
Henne Nee Alabedaaa Phalavilla Lyrics
Movie: Shraavana Sanje [1995]
Music Label: Sangeetha
Music: Upendra Kumar
Lyrics: R. N. Jayagopal
Singers: Dr. Rajkumar
Hoove Nee Seruva Angala Lyrics
Movie: Shraavana Sanje [1995]
Music Label: Sangeetha
Music: Upendra Kumar
Lyrics: R. N. Jayagopal
Singers: S. P. Balasubrahmanyam
Priyathamege Megha Sandesha Lyrics
Movie: Shraavana Sanje [1995]
Music Label: Sangeetha
Music: Upendra Kumar
Lyrics: R. N. Jayagopal
Singers: S. P. Balasubrahmanyam, Usha Ganesh
Thampaada Hongemara Buda Kiththu Lyrics
Movie: Shraavana Sanje [1995]
Music Label: Sangeetha
Music: Upendra Kumar
Lyrics: Doddarange Gowda
Singers: B.R. Chaya, Premalatha Diwakar
Comments
comments