May 26, 2018
Sobaana Haduve Lyrics
Sobaana Haduve Lyrics: Sobaana Haduve is a song from the 1992 Kannada movie Sindhoora Thilaka, directed by Om Saiprakash and produced by Kandepi Sathyanarayana under the banner R. S. Arts. Sindhoora Thilaka feautres Sunil, Shruthi, Malashree, Jaggesh, Jai Jagadish, Abhijith, Mukyamanthri Chandru, Umashree, Padma Kumata, Rathnakar, Ashalatha, Om Saiprakash and others.
This film was a remake of 1990 Tamil film Kizhakku Vasal starring Kathik, Revathi and Kushbu. Lahari Music is the music label of this movie. This song was composed by Upendra Kumar with lyrics written by renowned lyricist R. N. Jayagopal. Sobaana Haduve song wasrendered by S. P. Balasubrahmanyam.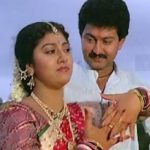 Sobaana Haduve Lyrics
Movie: Sindhoora Thilaka [1992]
Music Label: Lahari Music
Music: Upendra Kumar
Lyrics: R. N. Jayagopal
Singer: S. P. Balasubrahmanyam
Check out the lyrics here..
Sobaane Haaduve Shubha Kaaryadi
Haaraiside Thunge Bandu Indu Nannede
Sobaana Haaduve Shubha Kaaryadi
Haaraiside Thunge Bandu Indu Nannede
Andakke Andavi Chinnada Bombe
Yaava Shilpi Kadedanu Ee Cheluvina Bombe
Mooru Gantu Tharuvantha Bandha Nodidu
Yelu Janma Yeththidaru Nantu Muriyadu
Mooru Gantu Tharuvantha Bandha Nodidu
Yelu Janma Yeththidaru Nantu Muriyadu
Thuntuthana Maadidantha Kaala Mugiyithu
Adu Thanda Novanella Indu Manasu Mareyithu
Maavineleya Thoranavu Ninna Haraside
Harushadinda Baalu Neenu Endu Endide
Sobaane Haaduve Shubha Kaaryadi
Haaraiside Thunge Bandu Indu Nannede
Nanna Thamate Thaladalli Nooru Katheyide
Thaala Nudida Jathigalalli Mooka Vyatheyide
Nanna Thamate Thaladalli Nooru Katheyide
Thaala Nudida Jathigalalli Mooka Vyatheyide
Hosadu Thaala Nudisuvenu Naa Hosadu Baalige
Naguva Holeyu Thumbi Barali Ninna Paalige
Sobaane Haaduve Shubha Kaaryadi
Haaraiside Thunge Bandu Indu Nannede
Andakke Andavi Chinnada Bombe
Yaava Shilpi Kadedanu Ee Cheluvina Bombe
Comments
comments