October 12, 2018
Thaja Thaja Kalle Kayi Song Lyrics | Karulina Kare
Thaja Thaja Kalle Kayi Song Lyrics | Karulina Kare: Thaja Thaja Kalle Kayi is famous Kannada song from the 1970 movie, Karulina Kare written and directed by legendary Puttanna Kanagal. This song was composed by music director M. Ranga Rao and the lyrics of this song was written by well known kannada lyricist R. N. Jayagopal.
Karulina Kare features Nata Saarvabouma Dr. Rajkumar, Minuguthare Kalpana, R. N. Sudarshan, R. Nagendra Rao, Dinesh, M. S. Subbanna, H. Ramachandra Shastry, Rathnakar, Bangalore Nagesh, Adavani Lakshmidevi, Sathyavathi, Krishna, Pradhan, Bharadwaj, Renuka, Baby Mala, Master Ravikanth and others. The movie was produced by Srikanth Nahatha and Srikanth Patel under the banner Srikanth & Srikanth Enterprises.
Saregama was the music label of this movie. Mysooru Dasara Thaja Thaja Kalle Kayi song was rendered by one of the greatest playback singer S. Janaki. This is quite an interesting song, because this song is about ground nut called Kalle Kayi in Kannada. The highlight of the song is the rendering of Janakiyamma.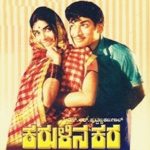 Thaja Thaja Kalle Kayi Lyrics
Movie: Karulina Kare [1970]
Music Label: Saregama
Music: M. Ranga Rao
Lyrics: R. N. Jayagopal
Singer: S. Janaki
Check out the lyrics here..
Kalle Kayi Kalle Kayi
Ghrama Gharam Kalle Kayi
Thaja Thaja Kalle Kayi
Ghrama Gharam Kalle Kayi
Bengalauru Karagda
Basavana Parasheya
Badavara Badami Kalle Kayi
Kalle Kaai Kalle Kaai
Shaaleyaage Makkalu Kaddu Thinno Kalle Kaai
Parkinaage Cubbon Parkinaage Lalbhag Parkinaage
Parkinaage Jodigalu Kolluvantha Kalle Kaai
Munisikonda Hendathiya Olisuvantha Kalle Kaai
Oye Munisikonda Hendathiya Olisuvantha Kalle Kaai
Atteya Baayige… Hey Hey Hey
Atteya Baayige Beega Haako Kalle Kaai
Thaja Thaja Kalle Kayi
Ghrama Gharam Kalle Kayi
Bengalauru Karagda
Basavana Parasheya
Badavara Badami Kalle Kayi
Kalle Kaayi Kalle Kaayi
Sangeetha Kacheri..Ee.. Thadari Na Tha Na..
Sangeetha Kacheri Naduve Thinno Kalle Kayi
Sangeetha Kacheri Naduve Thinno Kalle Kayi
Dasanaama Keluvaaga Kukki Thinno Kalle Kayi
Hottegilla Daasarige Hasivu Neego Kalle Kayi
Hottegilla Daasarige Hasivu Neego Kalle Kayi
Gandhi Thaatha…Aaa..
Gandhi Thaatha Mechhikonda Gharma Gharam Kalle Kayi
Gandhi Thaatha Mechhikonda Gharma Gharam Kalle Kayi
Thaja Thaja Kalle Kaai
Ghrama Gharam Kalle Kaai
Oye Bengalauru Karagda
Basavana Parasheya
Badavara Badami Kalle Kaai
Kalle Kaai Kalle Kaai
Bisi Bisi Kalle Kaai
Kalle Kaayi Kalle Kaayi
Ghrama Gharam Kalle Kayi
Kalle Kaayi Kalle Kaayi
Comments
comments