August 10, 2017
Thandana Thandana Lyrics
Thandana Thandana Lyrics: Thandana Thandana is a song from the 1989 Kannada movie Parashuram, directed by V. Somashekhar. This was V. Somashekhar's last movie with Dr. Rajkumar, who incidentally started his directing career with Dr. Rajkumar's Bangaarada Panjara. Parashuram features Dr. Rajkumar, Vani Viswanath, Puneeth Rajkumar, Thoogudeepa Srinivas, C.R. Simha, Doddanna and others. This song was composed and lyrics written by Hamsalekha. Thandana Thandana song was rendered by Dr. Rajkumar, Manjula Gururaj.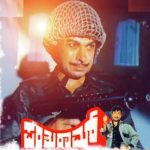 Thandana Thandana Lyrics
Movie: Parashuram [1989]
Music Label: Sangeetha
Music: Hamsalekha
Lyrics: Hamsalekha
Singers: Dr. Rajkumar, Manjula Gururaj
Check out the Lyrics here..
Thandana Thandana Ee Anda Thandana
Chandana Chandana Naaniga Chandana
Ba Baaro Nanna Rajkumara Nanna Rajkumara
Hathturalli Ninnatha Gandyaralli
Neenidduralli Noorentu Dandyakilli
Thandana Thandana Ee Anda Thandana
Danthana Danthana Ninna Mayyi Danthana
Ba Baare Kelu Nanna Rajkumari Nanna Rajkumari
Hathturalli Ninnatha Hennyaralli
Neenidduralli Navilina Hesaryakilli
Guheya Myale Chupina Kamba han
Kambada Myale Pili Pili Hakki oho
Hakkigu Myale Kariya Bande aha
Bandeya Naduve Oorige Daari
Ba Baaro Cheluva Nanna Ogata Bidiseega
Jayiseega Nanna Jadege Hoova Mudiseega
Baayi Moogu Kanne Baithaleye Daari Henne
Ba Baro Gedde Nanna Rajkumara Nanna Rajkumara
Hathturalli Ninnatha Gandyayarilli
Neenidduralli Navilina Hesaryakilli
Elasiruvaga Hasurina Banna hmm
Vayasiruvaga Kempane Banna hann
Muppina Vele Kappane Banna oho
Baygittare Saaku Okuliyanna hmhmm
Ba Baare Cheluve Nanna Ogata Bidiseega
Jayiseega Nanna Thutige Kadaga Thodiseege
Hannu Nerale Hannu Nanna Myale Ninagide Kannu
Baa Baare Gedde Nanna Raajkumari Nanna Rajkumari
Hathturalli Ninnatha Hennyaralli
Neenidduralli Noorentu Dandyakilli
Thandana Thandana Ee Anda Thandana
Chandana Chandana Naaneega Chandana
Ba Baare Kelu Nanna Rajkumari Nanna Rajkumara
Hathturalli Ninnatha Hennyaralli
Neenidduralli Noorentu Dandyakilli
Comments
comments