February 1, 2022
Thothapuri – Baglu Tegi Meri Jaan Song released
Thothapuri – Baglu Tegi Meri Jaan Song released: Baglu Tegi Meri Jaan The first single from the much awaited Kannada film 'Thothapuri Chapter 1', was released yesterday on YouTube. The song is getting overwhelming response from the Kannada cine lovers.
Baglu Tegi Meri Jaan song Lyrics Written By Vijayaprasad and the song was composed by music director J Anoop Seelin. This song was rendered by playback singers Ananya Bhat, Vyasraj Sosale, and Supriyaa Ram.
Baglu Tegi Meri Jaan is a entertaining song with comedy touch. Its lyrics are combination of Kannada and few Urdu lines with adult comedy touch. Murali's Choreography must be appreciated. Aditi Prabhudeva's dance moves with Jaggesh comic steps is fun to watch. Anoop Seelin's entertaining tune and rendition of singers adds more color to the song which was shot in the backdrop of colorful sets and costumes.
Thothapuri Chapter 1 Kannada movie was written and directed by Vijayaprasad and produced by K A Suresh under the banner Moniflix Studios And Suresh Arts.
Thothapuri Chapter 1 features Jaggesh, Daali Dhananjay, Aditi Prabhudeva, Suman Ranganth, Dhattanna, Veena Sundar, Hema Datt, and others. Niranjan Babu is the cinematographer and Suresh Urs is the editor of this film.
Director Vijaya Prasad made his directorial debut in 2012 through the film Sidlingu starring Yogesh, Ramya, Suman Ranganathan in the lead. His next film was Neer Dose [2016] starring Jaggesh, Hariprriya, Suman Ranganathan, Dattanna became a super hit film. His upcoming films are Parimala Lodge and Petromax features Sathish Ninasam in the lead.
Director Vijaya Prasad has made name for himself as a director who is good in the genre of adult comedy entertainers. He frequently colloborated with actors Jaggesh, Yogesh, Sathish Ninasam, Hariprriya, Suman Ranganathan, and Dattanna. Music director J Anoop Seelin is his regular music director for all his movies till now.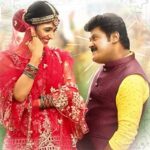 Baglu Tegi Meri Jaan song
Movie: Thothapuri Chapter 1 [2022]
Music: J Anoop Seelin
Lyrics: Vijayaprasad
Vocals: Ananya Bhat, Vyasraj Sosale, Supriyaa Ram
Cast: Jaggesh, Daali Dhananjay, Aditi Prabhudeva
Comments
comments