August 14, 2017
Thund Haikla Sahavasa Lyrics
Thund Haikla Sahavasa Lyrics: Thund Haikla Sahavasa is a song from the 2012 Kannada movie Drama, directed by Yogaraj Bhat. Drama features Yash, Radhika Pandit, Sathish Ninasam Sindhu Lokanath, Ambareesh, Rockline Venkatesh, K. Suchendra Prasad, Lohithashwa, Sampath Raj, Honnavalli Krishna, Kamesh, Achyuth Kumar, Sudhakar, Rajshekar Naidu, Bangalore Nagesh, Vijayasarathi, Naveen, Abhinaya, Malavika and others. This song was composed by V. Harikrishna with lyrics written by Yogaraj Bhat. Thund Haikla Sahavasa song was rendered by Vijay Prakash.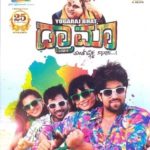 Thund Haikla Sahavasa Lyrics
Movie: Drama [2012]
Music Lable: Anand Audio
Music: V. Harikrishna
Lyrics: Yogaraj Bhat
Singer: Vijay Prakash
Check out the lyrics here..
Thundh Haikla Sahvasa Moor Hotthu Upvasa
Obba Teeke Venktesha Obba Kwaatle Satisa
Yengo Monne Taane Puc Mugsaawre
Oor Haalmaadodakke Research Nadsawre
Henge Haadidaru Baay Noytawe
Innu Kelidaru Kivi Hoytawe
Henge Haadidaru Baay Noytade
Innu Kelidaru Kivi Hoytade
Thundh Haikla Sahvasa Moor Hotthu Upvasa
Obba Teeke Venktesa Obba Kwaatle Satisa
Iwru Kaalu Ittru Andre Adey Roadoo
Ee Nan Maklige Bio-Data Bere Kedu Kedooo
Yawannada Holeyalli Haley Boatu
Boatalli Noora Yentu Toothu
Belgaageddu Bettakke Daara Katti Yeldawre
Odutidda Kaalakke Kaalu Adaa Ittawre
Anacinnu Tindru Taaley Noytade
Chinteyli Oota Bittre Gas Uu Aaytade
Anacinnu Tindru Taaley Noytawe
Chinteyli Oota Bittre Gas Uu Aaytawe
Thundh Haikla Sahvasa Moor Hotthu Upvasa
Obba Teeke Venktesa Obba Aayaan Satisa
Venktesaaaaa Satisaaaaa
Venktesa Satisaa Venktesa Satisaa…
Doddoru Kododilla Permissionnu
Compoundu Haarutide Genrationnoo Generationnooo
Bekilla Pralayakke Kaayodinnu
Thund Haiklu Mulgistaare Oorannu
Meese Geese Bandaaga
Haglu Raatri Raadahantha
Bili Gadda Bandaaga Helidella Vendanta
Prathi Endinallu Startu Irtawe
Parmaatma Maado Kelsa Yella Intawe
Prathi Endinallu Startu Irtawe
Parmaatma Maado Kelsa Yella Intawe
Thundh Haikla Sahvasa
Moor Hotthu Upvasa Sa Sa Sa
Obba Teeke Venktesha
Obba Kwaatle Satisha Sa Sa Sa…
Comments
comments