November 20, 2017
Yara Badukinali Lyrics
Yara Badukinali Lyrics: Yara Badukinali is a song from an upcoming Kannada movie Kanaka, directed by R. Chandru and produced by R.C.Movies. Kanaka features Duniya Vijay, Manvitha, Haripriya and others. Aananda Audio is the music label of this movie. This song was composed by Naveen Sajju with lyrics penned by Hrudaya Shiva. Yara Badukinali was rendered by Ramya Behara.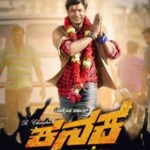 Yara Badukinali Lyrics
Movie: Kanaka [2017]
Music Label: Aananda Audio
Music: Naveen Sajju
Lyrics: Hrudaya Shiva
Singer: Ramya Behara
Check out the lyrics here..
Yara Badukinali Yaara Gurutho
Yara Kavithegalu Yaara Kuritho
Nooru Thiruvugala Ee Daarige
Jotheyagoru Yaaro Konege
Nee Thoruva Ee Kaalaji
Nee Vahisuva Ee Muthuvarji
Olavagalu Kaaranavu Aritho Marethu
Yara Baduinali Yaara Gurutho
Yara Kavithegalu Yaara Kuritho
Nooru Thiruvugala Ee Daarige
Jotheyagoru Yaaro Konege
Hey Huduga Thilidideya Ninage Vishaya
Thilido Thiliyadeyo Jaaruthide Hrudaya
Runavirada Anuraaga Iradu Geleya
Jotheyaagi Kaleyona Ulida Samaya
Nee Thoruva Ee Kaalaji
Nee Vahisuva Ee Muthuvarji
Olavagalu Kaaranavu Aritho Marethu
Yara Badukinali Yaara Gurutho
Yara Kavithegalu Yaara Kuritho
Bottagi Neenomme Sigalaareya
Edegoragi Nilloke Nanagaaseyu
Goththillade Neenu Yaru Antha
Kogidenu Nin Hesara Prathi Baariyu
Hosadagide Ee Thallana
Elladaku Nee Kaarana
Konevaregu Kai Hididu Nadedu Bidu
Yara Badukinali Yaara Gurutho
Yara Kavithegalu Yaara Kuritho
Comments
comments