September 12, 2023
Amchya Pappani Ganpati Anala Lyrics
Amchya Pappani Ganpati Anala Lyrics: Amchya Pappani Ganpati Anala is a Marathi devotional song about Lord Ganapathi or Ganesha.
Lord Ganesha also known as Ganapati, Vinayaka, and other names is one of the most worshiped deities in the Hindu religion. He is the song of Lord Shiva and Goddess Parvati. He is the elder brother of Lord Subramanya.
Ganesha Chaturthi is the festival celebrated to honour Lord Vinayaka. This festival will be celebrated every year in the month of late August or early September. Ganesha festival begins with people bringing in idols of Ganesha, symbolising the god's visit. The festival culminates on the day of Ananta Chaturdashi, when the idols are immersed in the most convenient body of water.
Amchya Pappani Ganpati Anala song lyrics were written by Manoj Ghorpade. This song was composed by Gaurav Recording Studio, Dj Akshay Pro and sung by Mauli Ghorpade, and Shaurya Ghorpade.
Listen to this Ganapathi devotional song to get the blessings of Lord Vinayaka. We wish you all a Happy Ganesha Chaturthi 2023.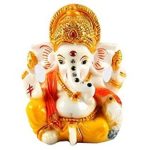 Amchya Pappani Ganpati Anala Lyrics
Singer: Mauli Ghorpade, Shaurya Ghorpade
Music: Gaurav Recording Studio, Dj Akshay Pro.
Lyrics: Manoj Ghorpade
Featuring: Mauli Ghorpade, Shaurya Ghorpade
Label: Mauli Production
Check out 'Amchya Pappani Ganpati Anala Song Lyrics' here
Ganpati Bappa Morya
Mangalmurti Morya
Aamchya Pappani Ganpati Aanla
Aamchya Pappani Ganpati Aanla
Shankar Aani Parvati
Maandivar Baslay Ganpati
Shankar Ani Parvati
Maandivar Baslay Ganpati
Tukumuku Baghtoy Changla
Aamchya Pappani Ganpati Aanla
Aamchya Pappani Ganpati Aanla
Galyat Dada Ghaltoya Mala
Mammini Bappa La Modak Dila
Galyat Dada Ghaltoya Mala
Mammini Bappa La Modak Dila
Undir Mamanna Nahi Dila
Aamchya Pappani Ganpati Aanla
Aamchya Pappani Ganpati Aanla
Shankarachya Galyat Saap
Kiti Motha Are Baap Re Baap
Shankarachya Galyat Saap
Kiti Motha Are Baap Re Baap
Bhiti Nahi Watat Ka Tyala
Aamchya Pappani Ganpati Aanla
Aamchya Pappani Ganpati Aanla
Mamani Bappa La Namaskar Kela
Babani Aanli Durva Phool
Mamani Bappa La Namaskar Kela
Babani Aanli Durva Phool
Shobhato Sundar Dhotar Angala
Aamchya Pappani Ganpati Aanla
Aamchya Pappani Ganpati Aanla
Aamchya Pappani Ganpati Aanla
Aamchya Pappani Ganpati Aanla
Comments
comments