July 31, 2019
Dear Comrade Movie Review | Telugu | Vijay Deverakonda
Dear Comrade Movie Review | Telugu | Vijay Deverakonda: A few days ago, I watched Dear Comrade – A Telugu film starring Vijay Deverakonda and Rashmika Mandanna in the lead. The film was directed by Bharat Kamma and produced by Yash Rangineni and Mythri Movie Makers. The film hit the theaters on 26th July 2019 in Telugu, Tamil, Malayalam, and Kannada languages.
The film created lot of anticipation prior to its release because the lead actors Vijay Deverakonda and Rashmika Mandanna, Who previously worked in the 2018 hit Telugu film Geetha Govindam.
Dear Comrade features Vijay Devarakonda, Rashmika Mandanna, Shruti Ramachandran, Suhas, Charuhasan, Anand, Kalyani Natarajan, Pratyusha Jonnalagadda, Raj Arjun, Tulasi, Sanjay Swaroop, Ashrita Vemuganti and others.
Justin Prabhakaran is the music director of this film. The soundtrack album of this movie contains 8 songs, out of which 6 were written by lyricist Rehman (6) and Chaitanya Prasad and KK had penned one song each. Cinematography was done by Sujith Sarang and The film was edited by Sreejith Sarang.
Synopsis:
Bobby, a hot-headed student union leader falls in love with a state-level cricket player Lily. Bobby's anger issues and Lily's fear of violence threatens their relationship. When Bobby is left heartbroken, He takes a journey of self-discovery.
Movie review:
Chaitanya Krishnan aka Bobby [Vijay Deverakonda], a hot-headed union leader is brass and impulsive when he meets Lily [Rashmika Mandanna] an aspiring cricketer. Lily who had lost her brother in a union fight hesitates to get involved with Bobby due to his anger issues and violent streak. Will Lily be able to change Bobby's attitude towards violence or will she lose him forever?
Pros:
The greatest advantage of "Dear comrade" is Vijay Deverakonda. He reminds us of his previous character "Arjun Reddy" whenever he has an outburst. Rashmika Mandanna has come a long way and one or two scenes she steals the show. Music is again a boost for the film.
Cons:
Though the story is interesting and is filled with enhanced music and power-packed performance, the film is let down by its screenplay due to its sluggish pace. The climax is dragged unnecessarily and this brings the film a notch lower. A better editing and a tighter second half could have done wonders on the film.
Verdict:
Though the movie could have been edited well, Dear comrade is a good attempt. The film does tear you up in one or two scenes and keeps playing with your emotions. Cinematography by Sujith Sarang is praiseworthy. The movie is a one-time watch. I rate this movie 3 out of 5.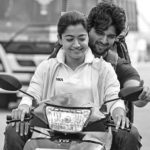 Dear Comrade Movie Review
Title: Dear Comrade [2019]
Director: Bharat Kamma
Cast: Vijay Deverakonda, Rashmika Mandanna
Music By: Justin Prabhakaran
Languages: Telugu, Tamil, Malayalam and Kannada.
Comments
comments