January 9, 2023
Kutch Express Movie Cast & Crew, Trailer, Release Date, Review
Kutch Express Movie Cast & Crew, Trailer, Release Date, Review: Kutch Express is a 2023 Gujarati movie directed by Viral Shah and written by Rahul Mallick. The film was produced by Parthiv Gohil, Manasi Parekh under the banner Soul Sutra.
Kutch Express Movie Cast & Crew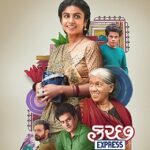 Kutch Express Gujarati film features Ratna Pathak Shah, Manasi Parekh, Dharmendra Gohil, Viraf Patel, Darsheel Safary, Heena Varde, Reeva Rachh, Kumkum Das, Margi Desai, Bhumika Barot, Denisha Ghumra, Kaushambi Bhatt, and others.
Kutch Express crew includes Music director duo Sachin-Jigar, Cinematographer Dhawalika Singh, Editor Chandrashekhar Prajapati, Art Directior Sheel Thakore, Costume Designer Niki Joshi, Make up Kishor Aykar, Pintu Bhuimali, Production manager Rajesh Chetri, and others.
Kutch Express Movie Release Date
The poster Kutch Express Gujarati movie was revealed on 9 November 2022, the teaser of the film was released on 28 November 2022 and the trailer was released on 6 December 2022. The film was released on 6 January 2023.
Kutch Express Trailer
Kutch Express [2023] Tracklist
1. Manghamta Divso
Lyrics: Sneha Desai
Music: Sachin-Jigar
Sinngers: Parthiv Gohil, Manasi Parekh
2. Ude Re Gulaal
Lyrics: Sneha Desai
Music: Sachin-Jigar
Sinngers: Bhoomi Trivedi, Keerthi Sagathia
3. Udvun Chhe Aakash Ma
Lyrics: Sneha Desai
Music: Sachin-Jigar
Sinngers: Divya Kumar, Jahnvi Shrimankar
Comments
comments