May 27, 2020
List of Movies Directed by NTR | Happy Birthday NTR
List of Movies Directed by NTR [N. T. Rama Rao] | Happy Birthday NTR: N. T. Rama Rao is regarded as one of the greatest actors of Indian Cinema. People of Andhra Pradesh worship him like god not just because of his portrayal as Lord Rama, Krishna, and other mythological characters onscreen but also for the kind of work he did as chief minister of the state for seven years.
No celebrity can escape from the criticism. as every human being, he also saw ups and downs in professional, social, and personal life. He also faced a lot of challenges as a political leader and his personal decisions also came under the hammer of heavy criticism. but devoid of all these, his legacy is still intact and people still love him, after all these years of his demise. that's NTR for you.
N. T. Rama Rao was born on 28 May 1923 as Nandamuri Taraka Rama Rao in Nimmakuru, Gudivada Taluk of Krishna District, Andhra Pradesh. His parents are Nandamuri Lakshmayya Chowdary and Nandamuri Venkata Ramamma.
After completing his education, he joined the Madras Service Commission as a sub-registrar but quit the job to pursue his dream of becoming an actor. He made his acting debut in a minor role in 1949 Telugu film Mana Desam directed by legendary L. V. Prasad. He got his first break in the 1951 hit film Pathala Bhairavi. NTR played as Lord Krishna for the first time in the 1957 blockbuster film Maya Bazaar and rest his history.
We all know him as a great actor but little did people know that he is a multi talented artist who had worked as a writer, editor, director and producer as well. He had directed 16 films. one the occasion of NTR birthday, We have made an effort to make a list of movies directed by Senior NTR [N. T. Rama Rao].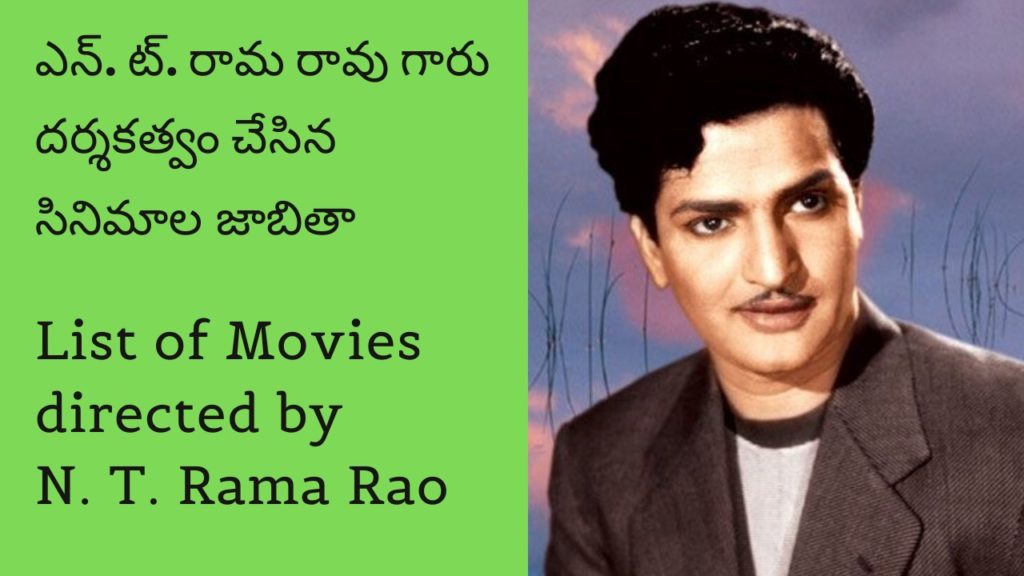 List of Movies Directed by NTR [N. T. Rama Rao]
| | |
| --- | --- |
| Movie | Year |
| Seetharama Kalyanam | 1961 |
| Gulebakavali Katha | 1962 |
| Sri Krishna Pandaveeyam | 1962 |
| Varakatnam | 1968 |
| Thalla? Pellama? | 1970 |
| Tatamma Kala | 1974 |
| Daana Veera Soora Karna | 1977 |
| Chanakya Chandragupta | 1977 |
| Akbar Salim Anarkali | 1978 |
| Sri Rama Pattabhishekam | 1978 |
| Sri Madvirata Parvam | 1979 |
| Sri Tirupati Venkateswara Kalyanam | 1979 |
| Chanda Sasanudu | 1983 |
| Srimadvirat Veerabrahmendra Swami Charitra | 1984 |
| Brahmashri Vishwamitra | 1991 |
| Samrat Ashoka | 1992 |
Comments
comments