November 16, 2020
MGR Saroja Devi Tamil Movies List | M. G. Ramachandran
MGR Saroja Devi Tamil Movies List | M. G. Ramachandran: The pair of Puratchi Thalaivar 'MGR' and Kannadathu Paingili 'B. Saroja Devi' is considered as one of the best onscreen pairs of Tamil Cinema. They have acted together in 26 Tamil movies and most of them are blockbuster hits.
B. Saroja Devi is one of the greatest actress of Indian Cinema. Over Six decades of her career She had acted in more than 200 movies in different languages including Tamil, Kannada, Telugu and Hindi.
Saroja Devi had acted with all the leading stars of her time including Sivaji Ganesan, Gemini Ganesan, Rajkumar, Dilip Kumar,  Shammi Kapoor,  N. T. Rama Rao,  but her combination with M. G. Ramachandran was well received by fans. Her first film with MGR was 'Nadodi Mannan' released in 1958 directed by MGR himself.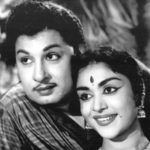 Nadodi Mannan helped Saroja Devi to establish herself as one of the leading actress in Tamil Cinema. The pair of MGR-Saroja Devi went on to produce several unforgettable Tamil movies with evergreen songs.
Government of India honored B. Saroja Devi with Padma Sri, the fourth-highest civilian honour, in 1969 and Padma Bhushan, third highest civilian award, in 1992. Lets take a look at the list of MGR Saroja Devi Tamil Movies..
MGR Saroja Devi Tamil Movies List
1. Nadodi Mannan [1958]
Initial release: 22 August 1958
Director: M. G. Ramachandran
Screenplay: C. Kuppusami, K. Srinivasan, P. Neelakantan
Music: S. M. Subbaiah Naidu
Co Actors: P. S. Veerappa, M. N. Nambiar, P. Bhanumathi, M. N. Rajam
2. Thirudathe [1961]
Initial release: 23 March 1961
Director: P. Neelakantan
Screenplay: Kannadasan
Music: S. M. Subbaiah Naidu
Co Actors: M. N. Nambiar, K. A. Thangavelu, M. N. Rajam
3. Thaai Sollai Thattadhe [1961]
Initial release: 7 November 1961
Director: M. A. Thirumugam
Screenplay: Aaroor Dass
Music: K. V. Mahadevan
Co Actors: M. R. Radha, P. Kannamba
4. Madappura [1962]
Initial release: 16 February 1962
Director: S. A. Subramanyam
Written by: Thilagan Narayanasamy
Music: K. V. Mahadevan
Co Actors: M. R. Radha, M. N. Nambiar, K. Vasanthi
5. Thayai Katha Thanayan [1962]
Initial release: 13 April 1962
Director: M. A. Thirumugam
Screenplay: Aaroor Dass
Music: K. V. Mahadevan
Co Actors: M. R. Radha, P. Kannamba, S. A. Ashokan
6. Kudumba Thalaivan [1962]
Initial release: 15 August 1962
Director: M. A. Thirumugam
Screenplay: Aaroor Dass
Music: K. V. Mahadevan
Co Actors: M. R. Radha, S. A. Ashokan, V. K. Ramasamy
7. Paasam [1962]
Initial release: 31 August 1962
Director: T. R. Ramanna
Story by: 'Thuraiyoor' K. Murthy
Music: Viswanathan–Ramamoorthy
Co Actors: M. R. Radha, T. R. Rajakumari, Kalyan Kumar, Sheela
8. Panathottam [1963]
Initial release: 11 January 1963
Director: K. Shankar
Written by: B. S. Ramiah
Music: Viswanathan-Ramamoorthy
Co Actors: Sheela, M. N. Nambiar, S. A. Ashokan, Nagesh
9. Dharmam Thalai Kaakkum [1963]
Initial release: 22 February 1963
Director: M. A. Thirumugam
Screenplay: Sa. Ayyapillai
Music: K. V. Mahadevan
Co Actors: M. R. Radha, S. A. Ashokan, V. K. Ramasamy
10. Periya Idathu Penn [1963]
Initial release: 10 May 1963
Director: T. R. Ramanna
Screenplay: Sakthi T. K. Krishnasamy
Music: Viswanathan–Ramamoorthy
Co Actors: M. R. Radha, S. A. Ashokan, Nagesh
11. Needhikkupin Pasam [1963]
Initial release: 15 August 1963
Director: M. A. Thirumugam
Written by: Aarur Das
Music: K. V. Mahadevan
Co Actors: M. N. Nambiar, S. V. Ranga Rao , M. R. Radha
12. En Kadamai [1964]
Initial release: 13 March 1964
Director: M. Natesan
Written by: Ma. Ra.
Music by: Viswanathan–Ramamoorthy
Co Actors: M. N. Nambiar, Nagesh, M. R. Radha
13. Panakkara Kudumbam [1964]
Initial release: 24 April 1964
Director: T. R. Ramanna
Screenplay: Sakthi T. K. Krishnasamy
Music by: Viswanathan–Ramamoorthy
Co Actors: Nagesh, Manimala, S. A. Ashokan
14. Dheiva Thaai [1964]
Initial release: 18 July 1964
Director: P. Madhavan
Screenplay: R. M. Veerappan
Music: Viswanathan–Ramamoorthy
Co Actors: M. N. Nambiar, S. A. Ashokan, Nagesh
15. Padagotti [1964]
Initial release: 23 November 1964
Director: T. Prakash Rao
Screenplay: Sakthi T. K. Krishnasamy
Music: Viswanathan–Ramamoorthy
Co Actors: M. N. Nambiar, Nagesh, Manorama, Jayanthi
16. Thaayin Madiyil [1964]
Initial release: 18 December 1964
Director: Adurthi Subba Rao
Written by: Sornam
Music by: S. M. Subbaiah Naidu
Co Actors: M. N. Nambiar, Nagesh, M. R. Radha
17. Enga Veettu Pillai [1965]
Initial release: 14 January 1965
Director: Tapi Chanakya
Screenplay by: Sakthi T. K. Krishnasamy
Music by: Viswanathan–Ramamoorthy
Co Actors: S. V. Ranga Rao, M. N. Nambiar, Pandari Bai
18. Kalangarai Vilakkam [1965]
Release date: 28 August 1965
Director: K. Shankar
Written by: G. Balasubramaniam
Music by: M. S. Viswanathan
Co Actors: M. N. Nambiar, Nagesh, Manorama
19. Aasai Mugam [1965]
Initial release: 10 December 1965
Director: P. Pullaiah
Screenplay: Aarur Das
Music director: S. M. Subbaiah Naidu
Co Actors: M. N. Nambiar, Nagesh, K. D. Santhanam
20. Anbe Vaa [1966]
Initial release: 14 January 1966
Director: A. C. Tirulokchandar
Screenplay by: A. C. Tirulokchandar
Music by: M. S. Viswanathan
Co Actors: S. A. Ashokan, Nagesh, Manorama, T. R. Ramachandran
21. Naan Aanaiyittal [1966]
Initial release: 4 February 1966
Director: Tapi Chanakya
Screenplay: R. M. Veerappan
Music by: M. S. Viswanathan
Co Actors: M. N. Nambiar, Nagesh, K. R. Vijaya
22. Nadodi [1966]
Initial release: 14 April 1966
Director: B. R. Panthulu
Written by: R. K. Shanmugam
Music by: M. S. Viswanathan
Co Actors: Bharathi , M. N. Nambiar, Nagesh
23. Thaali Bhagyam [1966]
Initial release: 27 August 1966
Director: Kadaru Nagabhushanam
Screenplay: Aarur Das
Music: K. V. Mahadevan
Co Actors: M. N. Nambiar, Nagesh, Manorama
24. Parakkum Pavai [1966]
Initial release: 11 November 1966
Director: T. R. Ramanna
Screenplay: Sakthi T. K. Krishnasamy
Music: M. S. Viswanathan
Co Actors: Kanchana, Chandrababu, K. A. Thangavelu
25. Petralthan Pillaiya [1966]
Initial release: 9 December 1966
Director: Krishnan-Panju
Screenplay: Aarur Das
Music: M. S. Viswanathan
Co Actors: M. N. Nambiar, M. R. Radha, Sowkar Janaki
26. Arasa Kattali [1967]
Initial release: 19 May 1967
Director: M. G. Chakrapani
Screenplay: R. M. Veerappan
Music: K. V. Mahadevan
Co Actors: Jayalalitha, M. N. Nambiar, S. A. Ashokan
Comments
comments