November 2, 2022
The Legend of Maula Jatt [2022] Movie Cast & Crew
The Legend of Maula Jatt [2022] Movie Cast & Crew: The Legend of Maula Jatt is a 2022 Pakistani Punjabi- language film directed and written by Bilal Lashari. Produced by Ammara Hikmat and Dr. Asad Jamil Khan under the production banner of Lashari Films and Encyclomedia, It is an adaption of the 1979 Pakistani cult classic film Maula Jatt. It is based on the characters and stories by Nasir Adeeb.
The Legend of Maula Jatt features Fawad Khan, Rehan Fareed Hiraj, Hamza Ali Abbasi, Mahira Khan, Humaima Malik, Gohar Rasheed, Faris Shafi, Shafqat Cheema, Saima Baloch, Nayyer Ejaz, Ali Azmat, Babar Ali, Resham, Zia Khan, Kamran Lashari, Raheela Agha, and others.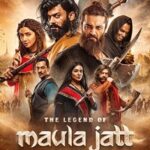 Director Bilal Lashari himself is the cinematographer and editor of this film. The music of the film was done by Sarmad Ghafoor. Bilal Lashari made his directorial debut film in Waar (2013), which at the time of release became Pakistan's highest-grossing film. Now The Legend of Maula Jatt is breaking box office records in Pakistan.
Maula Jatt [1979] film was directed by Younis Malik and it features Sultan Rahi, Mustafa Qureshi, Aasia, Kaifee, Adeeb, Aliya Begum, Ilyas Kashmiri, and others.
The Legend of Maula Jatt was widely praised by critics and audience alike. It has grossed over $5.2 million worldwide, surpassing Jawani Phir Nahi Ani 2's entire theatrical run in eight days and breaking numerous box-office records, including becoming the highest-grossing Pakistani film of all time.
The Legend of Maula Jatt [2022] Movie Cast & Crew
| | |
| --- | --- |
| Directed by | Bilal Lashari |
| Written by | Nasir Adeeb, Bilal Lashari |
| Based on | Characters by Nasir Adeeb |
| Produced by | Ammara Hikmat, Dr. Asad Jamil Khan |
| Cinematography | Bilal Lashari |
| Edited by | Bilal Lashari |
| Music by | Sarmad Ghafoor |
| Production | Encyclomedia |
| companies | Lashari Films |
| Distributed by | AAA Motion Pictures, Geo Films, Mandiwala Entertainment |
| Release date | 13 October 2022 |
| Running time | 153 minutes |
| Country | Pakistan |
| Language | Punjabi |
| Budget | Rs. 45−55 crore |
| Box office | Rs. 153 crore (US$6.7 million) |
The Legend of Maula Jatt [2022] Movie Cast
| | |
| --- | --- |
| Actor | Role |
| Fawad Khan as | Maula Jatt |
| Rehan Fareed Hiraj | Young Maula |
| Hamza Ali Abbasi | Noori Natt |
| Mahira Khan | Mukhoo Jattni |
| Humaima Malik | Daaro Nattni |
| Gohar Rasheed | Maakha Natt |
| Faris Shafi | Mooda |
| Shafqat Cheema | Jeeva Natt |
| Saima Baloch | Rajjo |
| Nayyer Ejaz | Jagoo Natt |
| Ali Azmat | Gogi |
| Babar Ali | Sardar Jatt (Maula's father) |
| Resham | Malika Jatt (Maula's mother) |
| Zia Khan | Ali (loyalist of Sardar Jatt) |
| Kamran Lashari | Narrator |
| Raheela Agha | Daani (Mooda's mother and Maula Jatt's foster mother) |
Comments
comments