October 19, 2019
Bramhachari Hidka Hidka Song Lyrics Video Released | Sathish Ninasam
Bramhachari Hidka Hidka Song Lyrics Video Released | Sathish Ninasam: Hidka Hidka is a Kannada song from an
upcoming Kannada movie Bramhachari starring Sathish Ninasam and Aditi Prabhudeva in the lead roles. Hidka  Hidka Song Lyrics Video was released yesterday in YouTube and it is trending on #21 position with 135K views at  the time of this posting.
Hidka Hidka Song lyrics were written by Chethan Kumar of Bharjari fame. The song was composed by upcoming music composer Dharma Vish, who came to limelight with his last hit song Shaane Top Agavle from the movie  Sinnga featuring Chirranjeevi Sarja and Aditi Prabudeva. Hidka Hidka Song was sung by Naveen Sajju, Pinky Maidasani and Bhargavi Pillai.
The lyricist of this Hidka Hidka song Chethan Kumar is famous for writing commercially hit songs, especially Hero Intro songs for Kannada Top Actors. Some of the notable songs of Chethan Kumar includes 'Baite Baite'  from Varadhanayaka, 'Auto Raja Auto 'Raja' from Auto Raja, 'I wanna sing a songu' from Sweety Nanna Jodi,  'Bossu Nam Bossu' from Bhajarangi, 'Starade', 'Subbalakshmi' from Bahaddur, 'Magariya' from Anjani Putra and recent sensation 'Yenammi Yenammi' from Ayogya' and others. He had also directed three movies. Bahaddur [2014] his debut movie as director, followed by Bharjari [2017] and Bharaate [2019] – which is going to hit theaters soon.
The singer of this song Naveen Sajju, recently created sensation with his song 'En Chandano Thako' from Baddi Magan Lifu which went viral in YouTube. Some of the songs rendered by him includes 'Godu Godu Bandavane Nodu'
from Akira [2016], 'Preethine Dyevru' from Bhujanga [2016] and 'Yele Mareyali' from Ricky in [2016], 'Lungi Yethkondu Myalakke' from Shathaya Gathaya [2018] and others. He also worked as music composer for the films
Kanaka starring Duniya Vijay and Yen Nin Problemmu.
Bramhachari was directed by Chandra Mohan, who earlier had directed movies Bombay Mitai [2015] and Double
Engine [2018]. This film was produced by Uday K Mehta under the banner UKM Studios / Uday K Mehta Productions.
This film marks the collaboration of actor Sathish Ninasam and producer Uday K Mehta for the second time after Love in Mandya. Interestingly this is also the second time collaboration of actress Aditi Prabhudeva and Music  Director Dharma Vish with producer Uday K Mehta after their previous venture Sinnga.
The Heroine of this film Aditi Prabhudeva is one of the most happening actress now in Kannada Cinema. After making her debut in Sandalwood thorugh the film Dhairyam [2017] with Ajay Rao and directed by Shiva Tejas, She starred in films Operation Nakshatra and Sinnga. Her upcoming movies includes Ranganayaki, Bramhachari and Totapuri. Aditi Prabhudeva's future project in 2020 includes Totapuri 2, Dilmaar, Ombathane Dikku, Gaalipata-2 and Kusthi.
Hidka Hidka Song Lyrics have Mandya slang in it and it makes the song interesting. Few English words also used in the lyrics. In this Bramhachari Hidka Hidka Song Lyrics Video we can see Singer Naveen Sajju singing the song in the recording studio. The video also has few pics from the song featuring Sathish Ninasam and Aditi Prabhudeva in different costumes in the backdrop of a rural set with few village properties. The video also contains clips of making of the song as well.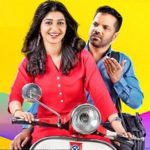 Hidka Hidka Song Lyrics
Film: Bramhachari
Music By: Dharma Vish
Lyrics By: Chethan Kumar
Vocals: Naveen Sajju, Pinky Maidasani, Bhargavi Pillai
Cast: Sathish Ninasam, Aditi Prabhudeva
Comments
comments