December 18, 2018
Dheera Dheera Song Lyrics Video Released | KGF | Yash
Dheera Dheera Song Lyrics Video Released | KGF | Yash: Dheera Dheera is a song from an upcoming Kannada movie KGF Chapter 1 starring Yash, Srinidhi Shetty, Ananth Nag, Malavika, Achut Kumar, Naga Bharana, Srinivas Murthy, Ayyapa, B. Suresh, Archana Jois, Roopa Rayappa, Dinesh Mangalur, Harish roi, Ninasam Ashwath, Avinash, Ram, Lucky, Vinay, Puneeth Rudranag, Master Anmol and others.
Dheera Dheera Song Lyrics Video Released in YouTube today and it is getting good response from viewers. This song was composed and written by music director Ravi Basrur. Singers Ananya Bhat, Santhosh Venky, Sachin Basrur, Puneeth Rudranag, Mohan Krishna, H. Shreenivas Moorthi and Vijy Aurs have lent thier voice to this song.
The lyrics of the Tamil version of the song was penned by lyricist Madhura Kavi and the song was rendered by singers Ananya Bhat, Mohan Krishna, Santhosh Venky, Renjith Unni, Balraj Jagadeesh Kumar, Yogi Sekar, H.S.Srinivasa Murthy and Vijay Urs.
Dheera Dheera Song Telugu lyrics were written by noted Telugu lyricist Ramajogayya Sastry. Singers Ananya Bhat, Srikrishna, Lokeshwar, Santhosh Venky, Arun Kaundinya, Adithya Lyengar, Ganta Rithesh, Mohan Krishna, H.Shreenivas Moorthi and Vijy Aurs have sung this song in Telugu.
Malayalam lyricist Sudamsu has written the Malayalam version Salaam Rocky Bhai. The Malayalam song was sung by Ananya Bhat, Mohan Krishna, Renjith Unni, Balraj Jagadeesh Kumar, Deepesh A K, Abhishek Chithra Soman.
Lets look at the technical side of the song. This song was Programmed by Ravi Basrur, Sachin Basrur and V. M. Bharath. Mixing of the song was done by Kishore Kumar. S [Hyderabad] and B. R. Naveen Kumar. The song was recorded and mastered at Ravi Basrur Music [RBM] studio.
KGF Chapter 1 was written and directed by Prashanth Neel of Ugramm fame. Ugramm which was released in 2014 was an action thriller featuring Srimurali and Haripriya. The film was liked by fans and critics alike. After four years Prashanth Neel is coming with KGF, A period drama set in the 70s and 80s.
KGF was produced by Vijay Kiragandur under the banner Hombale films. KGF moive will have two parts. The first part is K.G.F Chapter 1, followed by K.G.F: Chapter 2. The earlier films produced by the banner includes Masterpiece [2015] starring Yash, Ninnindale [2014] and Raajakumara [2017] starring Puneeth Rajkumar.
The Tamil version of the film was distributed by Vishal Film Factory, Hindi version by Excel Movies & AA Films, Telugu version by Vaaraahi Chalana Chitram and Global United Media in Malayalam. This highly anticipated film will be released on December 21, 2018 in Kannada, Tamil, Telugu, Malayalam and Hindi.
Listen Dheera Dheera Kannada song from KGF and let us know what you think about this song in the comments section below.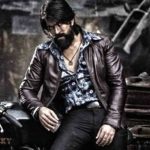 Song: Dheera Dheera
Movie: KGF Chapter 1 [2018]
Music Label: Lahari Recording Company
Music by: Ravi Basrur
Lyrics by: Ravi Basrur
Singers: Ananya Bhat, Santhosh Venky, Sachin Basrur, Puneeth Rudranag, Mohan Krishna, H. Shreenivas Moorthi, Vijy Aurs
Comments
comments