September 15, 2017
My Favorite Bollywood sad songs | Part 1
My Favorite Bollywood sad songs | Part 1
I'm a huge fan of Bollywood Patho Songs also known as sad songs. I was under the notion that, I have to be a crazy person to prefer sad songs over energetic dance numbers. It was quite shocking to know that more people are inclined towards sad heart-breaking songs. The sad songs with their lyrics and music just make you forget everything. You may enjoy the energetic songs but it's just live in the moment! But sad songs penetrate deep in to souls!
So, today I am going to list out my favorite top 10 sad songs.
1. Do Pal – Veer Zaara
Veer – Zaara directed by Yash Chopra had an ensemble star cast of Shah Rukh Khan, Preity Zinta, Rabi Mukherji, Boman Irani, Kiran Kher, Amitabh Bachchan and Hema Malini. The music was composed by Late Madan Mohan which was revised by his Son Sanjeev Kohli. This song is sung by Lataji and Sonu Nigam. The lyrics were penned by Javed Akhtar.
2. Tere Liye – Veer Zaara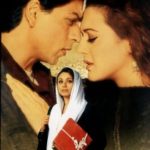 When it comes to the soundtrack of Veer Zaara, all the songs are marvellous. They are so melodious it soothes the soul! My favourite track from Veer – Zaara is Tere Liye sung by legendary singer Lata Mangeshkar and Roop Kumar Rathod. The music is based on old compositions created by Late Madan Mohan which was later revised by his son Sanjeev Kohli. The song is penned by Javed Akhtar.
I really don't have to say anything much when it comes to this song! It's self-explanatory. The nightingale voice of Lata ji, soulful music and brilliant performance by the actors Shah Rukh Khan and Priety Zinta is a treat to music and cine lovers. I must say, Yash Chopra did have a brilliant music sense!!!
3. Judaai – Badlapur
Judaai directed by Sriram Raghavan featuring Varun Dhawan and Nawaz Siddiqui in lead roles was released in the year 2015. The music is composed by Sachin Jigar and lyrics were penned by Dinesh Vijan and Priya Saraiya. The song Judaai is sung by Arijith Singh and Rekha Bharadwaj. When Arijith sings "Chadariya Jeeni re jeeni" my heart just drops. So much of pain!
4. Channa Mereya – Ae Dil Hai Mushkil
Ae dil hai mushkil directed by Karan Johar has a star cast of Ranbir Kapoor, Anushka Sharma and Aishwarya Rai Bachchan. The music was composed by Pritam and music is composed by Amitabh Bhattacharya. This soulful song is sung by Arijith Sing.  Whose heart didn't skip a beat or tears didn't fall when this song was played?
5. Kabhi Kushboo – Saaya
O…kay it's very tough for me to just talk about one song from the movie Saaya. I love all the songs from this film, but this Ghazal "Kabhi Khusboo" composed by Anu Malik just pulls my heart strings every damn time. The lyrics was penned by Sayeed Quadri and was sung by K.K. The song is basically about a lover yearning for dead wife and the lyrics and BG score is so awesome, one cannot stop from singing along.
6. Jhonka Haawa ka – Hum Dil De Chuke Sanam
Hum Dil De Chuke Sanam directed by Sanjay Leela Bhansali featured Salman Khan, Ajay Devgan and Aishwarya Rai in the leads and was released in the year 1999. The music was composed by Ismail Darbar and lyrics were penned by Mehboob. This beautiful heart – wrenching song was sung by two of my favorite singers Hariharan and Kavita Krishnamurthy.  "Suraj Ki Kirane Subah Ko Teri, Neede Udaati Hogi Na"
7. Nahin Saamne – Taal
Can anything go wrong when it comes to the combination of A.R. Rahman and Subhash Ghai?
Each and every song from this film Taal is out of the world. It was a musical blockbuster at the time of its release. It's difficult to choose just one. Nahin Saamne sung by Hariharan holds a special place in my heart. I have difficulty with falling asleep and this is my lullaby from past 5 years! Every night this song is on loop and only then I can Sleep.
The magical voice of Hariharan and the soothing music really does wonders!
8. Tujhe yaad na meri aayi – Kuch Kuch Hota Hai
This song is from the movie Kuch Kuch Hota Hai directed by Karan Johar. The film had a star cast of Shah Rukh Khan, Kajol and Rani Mukerji. The music was composed by Jatin – Lalit and lyrics was penned by Sameer. The song was sung by Udit Narayan , Alka Yagnik and Manpreet Akhtar.  The whole song is one cry fest thanks to lyrics and the acting of Kajol!
9. Tum Bin – Tum Bin
Tum Bin directed by Anubhav Sinha featuring Sandali Sinha, Priyanshu Chatterjee, Himanshu Malik and Raqesh Vasshisth was released in the year 2001. The music for the song "Tum Bin" was composed by Nikhil – Vinay and lyrics were penned by Faaiz Anwar. The song is sung by K.S. Chitra.
10. Ya Rabba – Saalam E Ishq
Saalam e ishq directed by Nikhil Advani has an ensemble star cast of luding Salman Khan, Priyanka Chopra, Anil Kapoor, Juhi Chawla, Akshaye Khanna, Ayesha Takia, John Abraham, Vidya Balan, Govinda, Shannon Esra, Sohail Khan and Isha Koppikar in lead roles. The music was composed by Shankar Ehsaan Loy and lyrics were penned by Sameer. The song "Ya Rabba" was sung by Khailash Kher. Sad song playlist is incomplete without having Khailash Kher songs in it. His voice with the music is like pouring lemon juice over paper cuts!
Honorary mentions:
• Sau Dard Hai by Jaan – E- Mann
• Chaha Hai Tujhko – Mann
• Ye Dooriya by Love Aaj Kal
• Tu Jaane Na – Ajab Prem Ki Gajab Kahaani
• Ae Dil Dil Ki Duniya Mein – Yaadein
Let me know if you have any of the songs listed above which also happens to be your favorite. Don't forget to drop a comment. Keep visiting us for more updates on songs, lyrics and music.
Sharing is caring so share with yours friends!
Comments
comments