January 24, 2019
Na Huduko Naale Song Lyrics Video Released | Premier Padmini
Na Huduko Naale Song Lyrics Video Released | Premier Padmini: Na Huduko Naale Song Lyrics Video Released from an upcoming Kannada movie Premier Padmini, directed by Ramesh Indira and produced by Shruti Naidu under the banner Shruti Naidu Chitra.
This song was composed by one of the most happening Kannada music director Arjun Janya. Na Huduko Naale Song lyrics were penned by noted Kannada lyricist V Nagendra Prasad. This song was rendered by upcoming playback singer Nihal in his debut movie song. D Beats is the music label of this movie.
Na Huduko Naale Song was released by actor Rakshith Shetty. In Na Huduko Naale Song Lyrics Video Rakshith Shetty speaks about the song. The Lyrics Video starts with Rakshith Shetty saying 'Premier Padmini cinemaada Na Huduko Naale Song release maad'de'. Then comes the caption 'An inspirational journey of life'. Later we can see Rakshith Shetty listening to the song wearing headphones.
Then there is few clips of making of the song in the studio of Arjun Janya with singer Nihal and actor Panju and others. The video features celebrities and common people listening to the song and reacting to it. we can Nagabharana, Jaggesh, lyricist Nagendra Prasad and others in the video.
Speaking about the song Music director Arjun Janya says 'First time ondu adbhutha singer na introduce maadthidivi' [First time we are introducing a talented singer]. The next clip shows Arjun Janya making a offer to the participant of a singing realty show in Zee Kannada. He says 'Nihaal avre Nimgondu Haadu Kodtheeni. Studio ge bandhu dayavittu neevu haadbeku' [Nihal I will give you one song, Please come to the studio and sing] thus Nihal got his debut song from Arjun Janya in the form of Na Huduko Naal. we can see Nihal rendering the song in the studio with the picture of AR Rahman on the left side wall.
The video ends with the wishes of celebrities and common people wishing all the best to the team and Rakshith Shetty wishes producer Shruti Naidu and at the end Shruti Naidu thanks the viewers for watching Na Huduko Naale Song Lyrics Video.
The song seems like a road trip song where Jaggesh and Pramod Panju travelling in a car. The highlight of the song is the lyrics. The lyrics talks about the journey of life and its ups and downs. no matter what may come we have move forward with faith.
Premier Padmini features Jaggesh, Sudharani, Madhoo Bala, Dattanna, Pramod Panju, Hitha Chandrashekar, Vivek Shima and others. Advait Gurumurthy is the Cinematographer, Rajendra Urs is the Editor, Shivakumar is the Art Director, Imran Sardariya is the Choreographer and Krishna Sarthak is the Executive producer of this film.
Na Huduko Naale Song Lyrics Video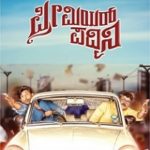 Released
Movie: Premier Padmini [2019]
Music by: Arjun Janya
Lyrics by: V. Nagendra Prasad
Singer : Nihal
Audio Label: D Beats
Check out the song and leave your opinion here..
Naa Huduko Naale
Nennegala Keladu..
Nee Nadeyo End..
Mailigallu Heladu..
Ee Payana Heege..
Naane Maalika Nange..
Ee Baduke Heege..
Naane Roopaka Nange..
Nenapa Esedu Munde Nadeve
Baruvaa Samaya He.. Innu Munde Nande Nannade
Hosadu Kanasu Naane Hosedu..
Adara Kadege Naa Nadeve Munde Ella Nande Nandene
Jaaro Jalapaatha Koneyalla
Munde Hariyodu Naa Kande..
Beelo Himaraashi Saayolla..
Bhoomi Hadavaaithu Naa Kande…
Ee Jagave Namma..
Nithya Paata Shaleyu..
Ee Baduke Heege..
Ondu Paakashaleyu..
Sihiyo Kahiyo Ogare Irali
Kalasi Balasi Ruchiyaada Baduku Maadikolluve
Chaliyo Maleyo Bisile Barali
Adaraa Jothege Naa Bidade Bidade Nadeve Nadeve
Naa Huduko Naale..
Nennegala Keladu..
Nee Nadeyo Endu..
Mailigallu Heladu..
Comments
comments