January 7, 2019
Natasaarvabhowma Songs List | Puneeth Rajkumar | Rachita Ram
Natasaarvabhowma Songs List | Puneeth Rajkumar | Rachita Ram: Natasaarvabhowma Songs are out now. Audio of Natasaarvabhowma was launched yesterday 5 January 2019 in Hubli in a grand event. The two singles Open The Bottle and the title track released earlier received good response from the audience.
Puneeth Rajkumar attended the audio lunch amidst the Income Tax raid happening in various Kannada stars and producers homes. The other celebrities spotted in the event were lead actress Rachita Ram, Ragavendra Rajkumar, music director D. Imman, singer Vijay Prakash, actor Doddanna and others.
Natasaarvabhowma music album consists of five song, two theme music and four Karaoke version of the songs. D. Imman has composed the songs. The lyrics of the songs were written by lyricists Jayanth Kaikini, Kaviraj, Yogaraj Bhat and director Pavan Wadeyar. Playback singers Vijay Prakash, Shreya Ghoshal, Sanjith Hegde, Anthony Daasan, Jithin Raj, Vandana Srinivasan have rendered the songs.  Lahari Music is the music label of this movie.
Natasaarvabhowma features Puneeth Rajkumar, Rachita Ram, Anupama Parameswaran, B. Saroja Devi, Srinivasa Murthy, Chikkanna, Sadhu Kokila, P. Ravishankar and others. This film was produced by Rockline Venkatesh under the banner Rockline Entertainments Pvt Ltd.
Nata Sarvabhowma was written and directed by Pavan Wadeyar. This is his second collaboration with Puneeth Rajkumar. Natasaarvabhowma is expected to hit the theaters in February 2019.
Check out Natasaarvabhowma Songs List, Listen and enjoy the songs.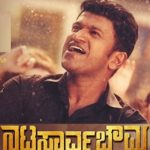 Natasaarvabhowma Songs List
Movie: Natasaarvabhowma
Director: Pavan Wadeyar
Actors: Puneeth Rajkumar, Rachita Ram
Music: D. Imman
Language: Kannada
Natasaarvabhowma Songs List
Open The Bottle
Music: D. Imman
Lyricist: Yogaraj Bhat
Singer: Vijay Prakash
Natasaarvabhowma Title Track
Music: D. Imman
Lyricist: Pavan Wadeyar
Singers: Sanjith Hegde, Anthony Daasan, Jithin Raj
Yaaro Naanu
Music: D. Imman
Lyricist: Kaviraj
Singer: Shreya Ghoshal
Tajaa Samachara [Male]
Music: D. Imman
Lyricist: Jayanth Kaikini
Singer: Jithin Raj
Tajaa Samachara [Female]
Music: D. Imman
Lyricist: Jayanth Kaikini
Singer: Vandana Srinivasan
Power Play: Theme Music
Paranormal Action: Theme Music
Natasaarvabhowma Title Track Karaoke
Open The Bottle Karaoke
Yaaro Naanu Karaoke
Tajaa Samachara Karaoke
Comments
comments