January 19, 2019
Ondu Munjane Lyrics Video Released | Yajamana | Darshan
Ondu Munjane Lyrics Video Released | Yajamana | Darshan: Ondu Munjane Hange Summane song lyrics video released today. This is the second single from an upcoming Kannada movie Yajamana. The first single Shivanandi was released during Sankranthi festival and the song got good reception from the Kannada audience.
Ondu Munjaane Hange Summane is romantic love song featuring the lead actors Darshan and Rashmika Mandanna of Kirik Party and Geetha Govindam fame. Ondu Munjaane Lyrics Video contains some stills and few video clips of the song. This song is shot in some exotic foreign locations.
This song was composed by music director V. Harikrishna and the song was written by famous Kannada lyricist Kaviraj. Ondu Munjaane Hange Summane song was beautifully rendered by playback singers Sonu Nigam and Shreya Ghoshal. The singer duo had sing beautiful hit romantic songs in Kannada movies. Hope this song will also make to that hit list.
Yajamana features Darshan, Rashmika Mandanna, Tanya Hope, Devaraj, Dhananjay, Ravishankar, Thakur Anoop Singh and others. The film was produced by Shylaja Nag and B. Suresha under the banner Media House Studio. Yajamana was directed by Pon Kumaran who had directed movies like Vishnuvardhana, Chaarulatha, Jai Lalitha, Gowdru Hotel and others. D Beats is the audio label of this movie.
Rashmika Mandanna tweed in twitter about the song saying : 'Ondu Munjane the second one from yajamana just loved this song. Hope you all like this too'.
Check out the Ondu Munjane Song from Yajamana 2019 and Enjoy the song.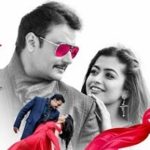 Ondu Munjane Song Lyrics
Movie: Yajamana [2019]
Music by: V. Harikrishna
Lyrics by: Kaviraj
Singers : Sonu Nigam, Shreya Ghoshal
Audio Label: D Beats
Check out the lyrics here..
Aaa.. Aaa..
Ondu Munjane Hange Summane
Naavu Hoguva Baare
Daari Iddashtu Doora Hoguva
Beda Annoru Yaare..
Nanna Thaare Ninna Mele
Goli Aadtidda Vayassale Preethi
Shuruvaagoythe
Nee.. Kaano.. Ella Kanasa
Maaduvenu Naanu Nanasa
Daasa Ninge Khaasa..
Ondu Munjaane Hange Summane
Naavu Hoguva Baare
Daari Iddashtu Doora Hoguva
Beda Annoru Yaare..
Yaarillada Uralli
Ondu Nadhi Dandeli
Naavondu Putta Mane Maadi
Beladingala Raathrili
Nakshtrada Hodikeli
Naaniruve Ninna Madilalli
Ninage Naanu Nanage Neenu
Nanna Jagada Doreyu Neenu
Rani.. Baare
Neenirade Ondu Nimisha
Iralaara Ninna Arasa
Daasa Ninge Khaasa
Ondu Munjane Hange Summane
Naavu Hoguva Baare
Daari Iddashtu Doora Hoguva
Beda Annoru Yaare
Sihimuttina Kandaaya
Prathinithyavu Sandaaya
Maadodu Maribeda Indu
Onde Kane Ottaaya
Ninge Hane Bindiya
Dina Nithya Ido Kelasa Nandu
Nanade Kannu Tagalo Bhayave
Kannu Mucchu Allu Siguve
Rani.. Baare
Kaveri Kaayo Kelasa
Maduvenu Ella Divasa
Daasa Ninge Khaasa
Comments
comments