April 3, 2020
Pogaru Karabuu Video Song Released | Dhruva Sarja Rashmika Mandanna
Pogaru Karabuu Video Song Released | Dhruva Sarja Rashmika Mandanna : Karabuu is a Kannada song from the upcoming Kannada movie Pogaru. Karabuu Video Song was released yesterday on the occasion of Rama Navami. This song is getting good response from viewers and it is trending in YouTube.
Karabuu song was composed, written and rendered by Chandan Shetty. some of the films for which Chandan Shetty worked as a music director includes Railway Children [2016], Sanjeeva [2017], Ganchali [2017], Appuge [2017], and Seizer [2018].
Pogaru Kannada film features Dhruva Sarja, Rashmika Mandanna, Raghavendra Rajkumar, Dhananjay, P. Ravi Shankar, Sadhu Kokila, Kuri Prathap, Kai Greene, Morgan Aste, Dharma, Mirnalini Ravi, and others. It is interesting to note that famous American professional body builder Leslie Kai Greene is playing a role in this movie and Raghavendra Rajkumar is also playing an important role in the movie.
Pogaru Kannada movie was produced by B. K. Gangadhar under the banner of Sri Jagadguru Movies and directed by Nanda Kishore. This is his 7th movie as director. He made his directorial debut through the film Victory starring Saran in 2013. He went on to direct Adyaksha [2014], Ranna [2015, Mukunda Murari [2016], Tiger [2017], and Brihaspathi [2018].
Pogaru is the fourth movie of actor Dhruva Sarja. He made his acting debut in 2012 through the hit film Addhuri, directed by A. P. Arjun. Followed by successful films Bahaddur [2014], and Bharjari [2017].
For the leading lady of this film Rashmika Mandanna, this is the fifth Kannada movie after Kirik Party [2016], Anjani Putra [2017], Chamak [2017], and Yajamana [2019].
The teaser of Pogaru was released on October 6th, 2018 on the occasion of Dhurva Sarja's birthday. The team released dialogue trailer on October 24 th, 2019. The teaser and trailer created lot of anticipation for the movie among Kannada movie goers. The film is expected to be released on 24th April 2020.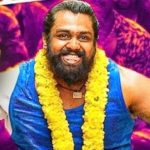 Song: Karabuu
Movie: Pogaru [2020]
Music: Chandan Shetty
Singer: Chandan Shetty
Lyrics: Chandan Shetty
Cast: Dhruva Sarja, Rashmika Mandanna
Comments
comments